By Ross Loehr, Business Development Officer, Intuition College Savings Solutions
August 6, 2019
Most parents will do whatever it takes to position their children for a happy and successful life. Did you know you can do something for your child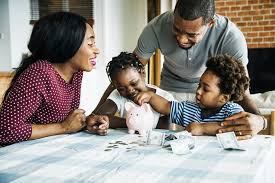 to substantially increase their life expectancy, decrease their chance of unemployment by over 50% and increase typical annual earnings more than $20,000? The common factor among each of these life changing benefits is a college degree. While you technically can't ensure your child goes to college, you can tip the scales in that direction. By saving in a 529 account, you are increasing the likelihood that your child will go to college and graduate. 
Children who have any type of 529 savings set aside, even sums less than $500, are much more likely to enroll in college and graduate. This partly has to do with the resources that are set aside for their future. However, I think it also shows the child that higher education is an expectation and demonstrates your belief in their ability to succeed. It sets the stage for them to have confidence in themselves and their future. This really struck me in the following conversation I had with my young daughter "Junebug" during the last school year.
Junebug: I learned a new song at school today. Will you sing it with me?
Me: Sure, teach me the words…
Several minutes of repeating the words after my daughter, and we commenced on a slightly off-key version of the new song she learned. It abruptly ended (as most activities do with toddlers) and our discussion headed in another direction.
Junebug: Dada when I grow up I want to be a doctor and astronaut.
Me: That sounds awesome, Junebug! You should do it.
Junebug: But how can I do that?
Me: How do you usually do things you have never done before?
Junebug: By learning about them?
Me: Exactly! You didn't know how to sing this new song before you learned it at school today and now look at how amazing you are at singing it now.
Junebug: Can I learn to be a doctor and astronaut at my school?
Me: You can learn how to be whatever you want to be at a big kid school called college, and you will go there when you get older.
Junebug: How do I go there?
Me: For now, you just need to keep having fun and learning new things. Mama and Dada will help you get ready. We are putting "moneys" (her word) in an account that is like your giraffe piggy bank and it is there for you when you go to college.
Junebug: Why are you doing that?
Me: It costs "moneys" to learn at college. We are saving so if you want to be a doctor or an astronaut or even something else you will be able to do it. Can you think of anything else you might want to be when you are bigger?
Junebug: I think I want to be a doctor and astronaut, but maybe I'll be a singer, too!
Me: If you are going to be a third thing, maybe I should save more in your college piggy bank!
Junebug: OK! Thanks Dada! Can I have a snack now?
My wife and I save in 529 accounts for our daughter and newborn son because we value the benefits that a college education can provide them. We want to help them by easing the financial costs of a college education as much as possible and saving in a 529 plan is the best vehicle for this goal. By sharing the process with our kids as they grow, we feel it will equip them with the confidence, expectations and conviction that they can and will succeed and that we believe in their ability.
By starting a 529 plan for a child, you are providing so much more than just money toward an education. You are giving them the chance at a host of life-changing benefits!
About the Author
Ross Loehr is the Business Development Officer at Intuition College Savings Solutions ("ICSS"). For the last 30 years, ICSS has offered plan management solutions to the 529 industry. ICSS currently services ten 529 plans across eight states and administers over one million participant accounts. Visit www.intuitioncss.com or contact Ross at Ross.Loehr@intuitioncss.com for more details.