By Tim Gorrell, Executive Director, Ohio Tuition Trust Authority
August 13, 2019
Do you remember the TV commercial with a father dancing through the aisles of a big box store, tossing items into his cart with his children trudging behind him as the song "It's the Most Wonderful Time of the Year" is piped through the store? Well, it IS that time of the year, time to buy your children's school supplies for the new school year. With just a little bit of work, you can keep the costs down as you buy these required items.
First, set your budget. It's so easy to overspend on these supplies. Search online to get an idea for a total cost before going into a store. In fact, you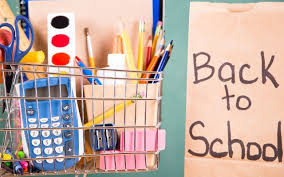 may discover that buying all these items online might be cheaper, providing that shipping isn't added to the total. Once you have a good estimate, look online at the store where you would normally shop to see if it is offering additional discounts or coupons. Sometimes, it's worth it to visit the actual storefront as it may offer lower prices to draw more traffic.
To reduce your back-to-school cost even more, use money-saving apps while shopping. This will help you discover if other stores or websites are offering the same item at a lower price or if there is a coupon available to use. If you're in a store, check to see if it has an app and if there are extra price reductions for using it.
Don't forget to also shop at dollar stores. You may be surprised at the deals you can find on basic items on the school supply list, like pens, pencils, and even larger items like calculators.
Another option: Buy just enough supplies to get your children started. Most retailers deeply discount these supplies once the school year has begun so you can purchase everything else off the supply list at a later date at a reduced cost. You can also shop throughout the year for those regularly requested school supplies to take advantage of the off-season prices.
As you've learned with all your trips to the grocery store, the best way to save money while shopping is to leave your children at home. You can shop for deals in peace rather than argue why you aren't going to buy the costly trendy or movie-themed supplies.
Once you have completed this last stop leading into the new school year, what's the best thing to do with all your back-to-school savings? Just as you have a plan or strategy for purchases small and large, make one if you haven't already for those back to school education expenses that will come after high school and contribute immediately to your 529 plan! Every dollar saved now is a dollar that doesn't have to be borrowed later. For more tips on saving in a 529 plan, visit collegesavings.org.
About the author:
Tim Gorrell is the executive director of Ohio Tuition Trust Authority. For almost 30 years, Ohio Tuition Trust Authority has sponsored and administered Ohio's 529 Plan, CollegeAdvantage. Ohio's 529 Plan oversees nearly 642,000 accounts with $12.4 billion in assets. Visit CollegeAdvantage.com or call 1-800-AFFORD-IT (233-6734) for more information.