By Anita Kelley, Director, Savings Division, Alabama State Treasury
July 23, 2019
When you're discussing your favorite holidays, you might end up with a pretty long list. No matter the reason for the season, chances are you've made some unforgettable memories with your family year after year.
I would like to shine a spotlight on one of the more underrated holidays: tax-free or sales tax holidays!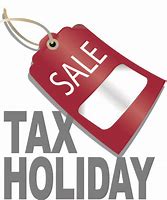 For 2019, 17 states across with country will be celebrating some variation of a Sales Tax Holiday where sales tax fees are waived throughout the state on certain purchases. Each participating state has different rules and exclusions so be sure to check the state you live in or will be visiting for specific dates and what is and is not included in the tax savings.
It's the perfect time to stock up on back-to-school supplies and clothes for your child's upcoming academic year. And it's also the perfect time to think about saving for college by opening a 529 account or contributing to your existing account.
Speaking of school supplies, if you're getting ready to send a student off to college, you should know that your 529 funds can be used for more than just tuition. Qualified expenses include books, supplies, and equipment required for enrollment, as well as computers and more. Room and board expenses are also included as long as the student is enrolled at least half-time.
You may be thinking, "That sounds nice, but college is a long way away." Sure, your children may be several years from their cap and gown, but if they are old enough to need back-to-school supplies, they are old enough to have a college savings account. In fact, the earlier you start saving, the more you can potentially earn – even if you are starting small.
Yes, it could be tempting to splurge on something nice for yourself with all the cash you'll save during the tax holiday, but those dollars would also make a perfect contribution to a new or existing 529 account for your children, grandchildren, or nieces and nephews. Pretty soon, they will be buying their own back-to-school supplies, and they can use every dollar they can get.
About the Author:
Anita Kelley is the Director of Savings Division for CollegeCounts 529. To learn more, visit Collegecounts529.com