By: Hon. Michael L. Fitzgerald, State Treasurer, State of Iowa
July 16, 2019
The summer break is a great time to get away from it all and spend time with family. My favorite part is the time I get to spend with my grandchildren and talk with them about what they might want to do in the future. But, the time off from school always seems to fly by and before we know it, fall semester is upon us.
While it seems like just yesterday you were filling their backpacks and holding their hand for the first day of kindergarten, our children and grandchildren grow up fast, and all of a sudden it's time to pack their bags and send them off to their first day of college. After all the years of planning and saving for this next step in their lives, the start of the fall semester means it's time for families to begin using their hard-earned savings to pay for these next education adventures for their children and grandchildren. And, just like it's better to start saving as early as possible, it's also better to start getting ready to withdraw earlier rather than later.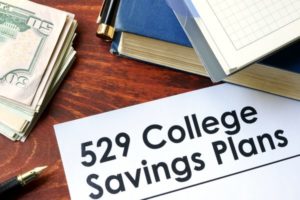 Before your student knows what their bill may look like, take the time to login and review your 529 account. This will give you the opportunity to plan ahead and even budget how much you'll want to withdraw for the fall semester. Plus, once you do know the fall expenses, you'll be able to make your payments early and then sit back and relax as you enjoy this next milestone in your children's and grandchildren's lives.
As you begin to plan, I would also suggest taking some time to learn more about the withdrawal process for your 529 plan. For example, 529 plan offers multiple ways to request withdrawals and who to pay. Account owners can make requests online, by mail and even by phone. Plus, withdrawals can go directly to the school, reimburse the account owner directly or reimburse the beneficiary of the account – much like the investment process, you get to pick the option that best fits your needs.
I know tuition expenses may be the biggest cost for you and your family, but don't forget that funds from your 529 account can be used to cover many expenses and are not limited to just tuition. In addition to the tuition, room and board, books and supplies, computers and much more are all qualified expenses for your withdrawals making these types of 529 plan withdrawals are tax-free.
Time seems to fly by this time of year, so don't let your fall education bills sneak up on you. By saving and planning for these expenses, families like yours are working toward limiting student loan debt for our future generations. Your 529 savings and tax-free withdrawals go a long way when it comes to saving from that future debt. And now it's time to get ready for your fall withdrawals and your student's next adventure!
About the Author: Iowa State Treasurer Michael L. Fitzgerald is the Past Chair of the College Savings Plans Network and the administrator of Iowa's 529 College Savings Programs including College Savings Iowa, with $5 billion invested.