By Hon. Young Boozer, State Treasurer of Alabama & 2016 chair of the College Savings Plans Network
March 15, 2016
Today, the College Savings Plans Network published its 2015 Year-End 529 Report.  The year finished with a record level of total college savings investments. Highlights of the 529 Year-End Report include:
• Total investment by U.S. families in 529 plans reached a record level of $253.2 billion, representing a growth in assets of $5.3 billion.
• The total number of 529 accounts increased 3.6% over the past 12 months, growing from 12.1 million in December 2014 to 12.54 million as of December 2015.
• Contributions grew by $25 billion in 2015.
• More than 55% of all 529 accounts received contributions in 2015.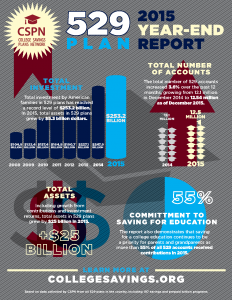 College savings plans are the best way for families to save for college, and no amount is too small in which to start or contribute. In the past year more than 6.8 million accounts received contributions confirming no matter how big or small the contributions, families are committed to making college savings a priority.
Go here to read the full report
For more information on how to get started, or tips on 529 plans, we encourage you to look around our website www.collegesavings.org, which has great resources for families looking to save. Let's continue to grow 529 plans in 2016!
About the Author:
A native of Alabama, Young Boozer's four-decade career in banking, finance and investments has taken him from Citibank in New York and Crocker National Bank in Los Angeles, to Coral Petroleum in Houston and Colonial Bank in Montgomery. Treasurer Boozer also served as Deputy State Finance Director for Governor Bob Riley after his retirement in 2007. During his tenure in the Alabama Department of Finance, he played a key role in saving millions of taxpayer dollars through the restructuring of state bond debt and derivatives. Boozer left the Riley Administration in early 2010 to run for State Treasurer in his first race for elected office.