By Meredith Barnhart, Director of Integrated Communications, Massachusetts Educational Financing Authority
October 1, 2019
We all know that saving money is a good habit. It allows us to pay for large expenses and more accurately plan for future purchases. And if you're a parent, you're constantly aware of the need to set money aside specifically for college. But do you know just how powerful an impact saving for college can have on your future finances?
Look at the chart below. Each group of bars represents saving a certain amount per month in a college savings account. Each color represents your child's year in school during which you start saving. Immediately, you can see the significant amount of money you can amass over the course of several years by consistently saving.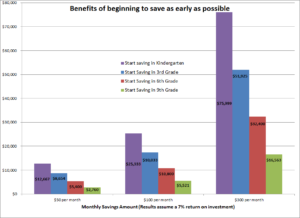 For example, if you start saving just $50 every month while your child is in kindergarten, you'll have $12,667 by the time your child goes to college (based on a 7% rate of return*). If you're able to double that monthly investment to $100, you'll have $25,333 when you child goes to college, a sum that will certainly help pay for a significant amount of college costs.
And what happens if you don't save for college? You won't have money set aside for college costs when your family receives that college bill. And as a result, you may need to borrow money to pay for college, with interest.
Review our chart below, which illustrates two different ways to finance a $10,000 college cost. The bar on the left represents a family who saved just under $7,000 in a college savings account, which grew to a $10,000 account, assuming a 7% interest rate over 10 years.* Interest plays a powerful role in helping families save enough funds for college.
The bar on the right represents a family with no savings, who had to pay for college using a loan. Taking a $10,000 loan for college costs will actually cost a family $13,920, based on a loan interest rate of 7% and a repayment term of 10 years. Because this family didn't save, they'll need to pay $3,920 more in college expenses than the actual $10,000 cost.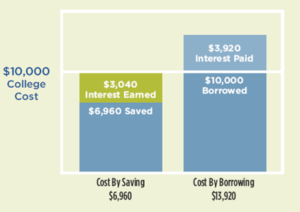 Remember, even setting aside a small amount every month can significantly impact the amount your family will pay for college. If you haven't yet started saving for college, visit CollegeSavings.org to learn more about the 529 college savings plans.
*These hypothetical examples illustrates the potential value of different regular monthly investments for different periods of time and assumes an average annual return of 7%. Contributions to a 529 plan account must be made with after-tax dollars. These examples do not reflect actual investments and do not reflect any taxes, fees, expenses, or inflation. If they did, results would be lower. Returns will vary, and different investments may perform better or worse than these examples. Periodic investment plans do not ensure a profit and do not protect against a loss in a declining market. Past performance is no guarantee of future results.
About the author: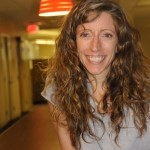 Meredith Barnhart serves at the Director of Integrated Communications at MEFA, the Massachusetts Educational Financing Authority. Part of the MEFA team since 2012, Meredith works to provide a comprehensive curriculum of education and guidance on the college enrollment and financing process to families and colleagues, and has served as tri-chair of FAFSA® Day Massachusetts and a member of MASFAA's Just the FACTS faculty. Before joining MEFA, she worked in finance and undergraduate financial aid for 10 years at Boston University. She received a BS in Commerce from the University of Virginia and a master's in Higher Education Administration from Boston University.