By: Christine Stoll, Executive Director, IDeal – Idaho College Savings Program
February 6, 2017
This past year we have been working with our oldest daughter who is now six, to teach her about money.  We created three savings jars and named them "save", "share" and "spend".  She divides her monetary gifts and money that she earns into the jars as she receives them.  She has also been learning about setting goals and has been adding to her 529 account when her "save" jar builds to twenty-five dollars.  Over the course of a year, what we as parents have learned along the way has been invaluable, specifically, learning to save money needs to be fun and rewarding for kids.
Step 3: Make it Fun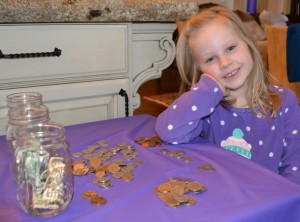 Giving my daughter some decision-making power about her money helped her get excited because, let's face it, spending does sound more fun than saving! Here are a few other ways to make this a fun activity:
Consider matching your child's savings contributions. For every dollar your child contributes, contribute one yourself. Matching can motivate your child to put a greater portion of money in his "save" jar, and it's fun for them to see their money double.
Set attainable savings goals and timelines. The younger your child is, the smaller those goals and timelines should be. For example, you might set a goal of saving $25 over the course of several months. Help your child make a chart to track her progress, and hang it somewhere that's easy to see. (Check out these Pinterest examples). Hold a small celebration when your child achieves the goal.
Let your child decide where to allocate "share" money. If your child is younger, present him with two or three options.
(For example: "Our Share Jar has twenty dollars in it now! Do you want to give it to our church, to the animal shelter, or use it to buy a present for your sister's birthday?") An older child might enjoy doing his own research to find a cause worthy of supporting.
Use online tools and games. For small children, Sesame Street has a dedicated site called For Me, For You, For Later, filled with videos and activities for children, and a parent guidebook with helpful tips on how to talk to small children about money. An older child may want to learn how to take his save, share, and spend jars online. Here's a list of some of the top sites designed to help children learn about online banking.
Like many of us, my daughter needs practice in learning how to save.  There are plenty of times when her initial inclination is to put all of her money into the "spend" jar.  These moments provide an opportunity for recapping the goals of her three savings jars.  It has been rewarding for me to witness her face light up when choosing which jar to put her money into and how proud she is of her decision.
Of course, children watch their parents' behavior closely. You have to eat your vegetables, too. Consider committing to putting some money in your child's college savings account yourself each month. With a 529, you can make it easy by setting up automatic transfers to the account. You can even get family and friends in on the saving—most 529s make it easy to share a link via email or social media that any loved one can use to contribute directly to your child's account. After a while, you'll probably find that those "veggies" are pretty great!
Learn more about 529 College Savings Programs
About the Author:
Christine Stoll is the Executive Director of IDeal – Idaho College Savings Program.    The IDeal Program is celebrating its 15th year helping families save for their higher education goals in a tax advantaged way.  Idaho tax payers can qualify for an annual state tax deduction of up to $4,000 of contributions for single filers and up to $8,000 of annual contributions for those married and filing jointly. 
For more information about the Idaho College Savings Program ("IDeal"), call 866-433-2533 or visit www.idsaves.org to obtain a Disclosure Statement. The Disclosure Statement discusses investment objectives, risks, charges, expenses, and other important information. Because investing in IDeal is an important decision for you and your family, you should read and consider the Disclosure Statement carefully before investing. Ascensus Broker Dealer Services, Inc. ("ABD") is Distributor of IDeal.