By: Christine Stoll, Executive Director, IDeal – Idaho College Savings Program
January 30, 2017
Many of us lament on when it is appropriate to start teaching our kids about money.  I don't think there is a magic number per se, but would argue that sooner than later is a good strategy.  Last year, when my daughter turned the magical number of 'five' I decided that we would create three mason jars with the words save, share and spend on them.  The goal was to teach her about how earning money gives us options. Getting my daughter excited about money meant telling her that she was old enough to start making some of her own decisions about money.  She had fun decorating the jars and then dividing the coins and paper bills into each jar.  She was delighted to see the jars fill up knowing she would be able to use her money in different ways.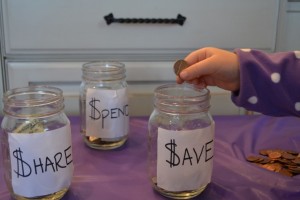 Step 2: Put Savings in a 529 College Savings Account
Next, I told her that every time she reached twenty-five dollars in her "save" jar, we would deposit that money in a college savings account, so that when she is ready to go to college, she will have some money there to help out with the costs.
For our college savings accounts, we chose IDeal, which is Idaho's state-sponsored 529 college savings program, for the tax benefits we received as Idaho taxpayers. CSPN can help you find your state's plan(s) and compare plans by feature.
Most 529 accounts take less than 15 minutes to set up.  Because 529 programs offer investments, your money has the potential to grow.  When it's time to go to college, most programs allow your child to use the money at any eligible and accredited institution in the nation, from trade school to traditional four-year university and beyond.
Here's the genius part of saving for college with a 529 account:  it does three things.
1) Putting your child's savings away in a college savings account helps keep those funds separate from other drains on your savings.
2) You're setting a college-going expectation early, and reinforcing it often. A study shows that kids with college savings accounts are up to 6 times more likely to go on to higher education, regardless of account balance.
3) You could benefit from saving right away. Many states offer a state tax deduction on your annual contributions. Check with your state's 529 program to see what it offers.
Putting money into a 529 account was the most exciting step for me as a parent.  We had started her 529 account when she was born and now we could show her the tangible goal that our entire family was part of.  Over the last year we have been able to log onto her 529 account and show her where her deposits are going and how they are working toward the goal of saving for her future education.  The line and bar graphs were very helpful for her understanding of how the account was performing.  An added bonus was that she could also see how much we have saved for her each month.  Stay tuned for our family's Step 3: Making it fun!
About the Author:
Christine Stoll is the Executive Director of IDeal – Idaho College Savings Program.    The IDeal Program is celebrating its 15th year helping families save for their higher education goals in a tax advantaged way.  Idaho tax payers can qualify for an annual state tax deduction of up to $4,000 of contributions for single filers and up to $8,000 of annual contributions for those married and filing jointly. 
For more information about the Idaho College Savings Program ("IDeal"), call 866-433-2533 or visit www.idsaves.org to obtain a Disclosure Statement. The Disclosure Statement discusses investment objectives, risks, charges, expenses, and other important information. Because investing in IDeal is an important decision for you and your family, you should read and consider the Disclosure Statement carefully before investing. Ascensus Broker Dealer Services, Inc. ("ABD") is Distributor of IDeal.