Luke Minor, Senior Associate Director, Washington's Guaranteed Education Tuition (GET) & DreamAhead College Investment Plan
June 11, 2018
It's been a busy year for all things 529 here in Washington state. We reopened the GET prepaid program for its first enrollment period following a two year hiatus; we launched Washington's first college savings plan – the DreamAhead College Investment Plan; and we began implementing a new state law that will give GET participants a higher payout value or provide additional tuition units, depending on choices they make about their accounts.
While it's easy to get lost in our day-to-day work, especially with so much going on, it's important to take a step back and not just focus on everything that needs to get done, but to remember why the heck we're doing our work in the first place. That's why 529 day was especially memorable for me this year. In Washington, we celebrated by partnering with the Seattle Mariners and a local parenting magazine for a special 529 college savings night at the ballpark. Leading up to the event, we gave away tickets to that night's game to our Facebook fans, with one lucky family winning an on-field experience.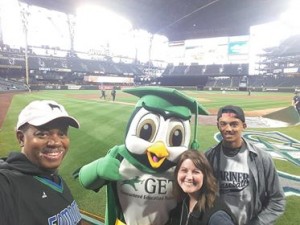 It turns out that the GET team may have been luckier than the family who won the on-field experience. We spent a good deal of time with the family, heard some of their story and learned about their plans and hopes for the future. Meet Alex and Steve. Alex is a high school senior, and is looking forward to his graduation in just a couple of weeks. He's been doing double-duty by getting some college credits under his belt through Running Start. His dad, Steve, is the Dean for Student Success at a local community college, and his passion for life and for preparing students for the future was evident as soon as we met him.
Steve has been saving for Alex through the GET Program over the years and shared that he's relieved to know Alex will have those funds available when it's time for college. Even better, we could vividly sense the special father-son bond they shared, Steve's pride in Alex, and his hopes for Alex's future. In typical teenager fashion, Alex played it cool and was a bit quiet, but he truly seemed to enjoy that special moment with his dad. And every so often we would see him light up, especially when he met one of the players and got his autograph and a photo-op.
Special moments like these remind us why 529 plans exist and why everyone in the CSPN network is doing the important work we do. We, justifiably, spend a great deal of time working to maximize the features and benefits of our individual plans and the industry as a whole (lowering fees, preserving favorable tax treatment, generating competitive returns, etc.). However, these efforts do not define us. At a fundamental level, our industry is really about joining families on their journeys as they ponder their dreams of the future, make plans to achieve these dreams, and revel in the milestones along the way. We help families achieve and maintain financial security, we foster student success, and we dream of a future of no student debt.
After the game, Steve told us that while it was just pure luck that they won the on-field experience, it felt "poetic." I fully agree – sometimes the right moments come along at the right time and impact us in ways we never expected. Thank you Alex and Steve for a memorable evening!
About the Author
Luke Minor is the Senior Associate Director for Washington's Guaranteed Education Tuition (GET) prepaid tuition program. Luke has been with GET since 2012 and is passionate about helping Washington families plan ahead for future college costs and promoting financial wellness. Since 1998, Washington families have opened more than 100,000 GET accounts and the program fund is now valued at over $2 billion. Already, GET students have used over $1 billion of GET benefits to help pay for school in all 50 states and 14 foreign countries.