Lucas Minor
GET Marketing & Communications Manager
February 16, 2015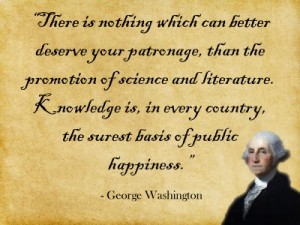 Whenever Presidents' Day rolls around, it rekindles many fond memories from U.S. history classes in elementary and high school. Iconic events come to mind such as George Washington crossing the Delaware, the signing of the Declaration of Independence, the framing of the Constitution and President Lincoln delivering the Gettysburg Address. I was always awed by these great leaders, and the impacts they made, not only in creating, growing and preserving a young nation, but in setting a precedent that representative democracies do work and can thrive. However, as I reflect on these larger-than-life images that many of us hold of our forefathers, I try to remember that despite all of the reverence we project onto them, many saw themselves simply as stewards of democracy and the public's will.
To that end, our nation's leaders have (generally) fought to preserve the foundations of the Constitution and made policy decisions intended to serve the best interest of the people. While our 44 Presidents have certainly held widely varying views on the best approaches to this noble purpose, something most could agree on is the importance of education. It's hard to disagree with the idea that the dissemination of knowledge is the cornerstone for a thriving economy, an increasingly just political system, and the overall advancement of society.

That's where we in the college savings industry come in. Like our Presidents, we're advocates for education and do our best to help families prepare their children for the future. By planning ahead and setting our children up for academic success, we're taking an active role in ensuring not only their future financial security, but that they will contribute to the progress of our country in a meaningful way. Today's youth will be our next generation's leaders, and we need to do everything we can to nurture their minds to prepare them for this important task. One of the best things about our country is that any one of our children has the potential to be a future President of the United States, and a solid educational foundation is an all but necessary prerequisite.
While recently there has been growing concern that our nation is falling behind other countries, we still haven't lost sight of the important connection between education and innovation, economic success and society's well-being. We continue to invest at all levels, from early learning to higher education. Further, we continue to wrestle with the best way to measure academic progress and provide non-traditional academic environments to support varying learning styles and needs. However, the question remains, "Is what we're doing enough?" And, "What is our greatest opportunity for progress?" These are difficult questions with no clear answers, but as we reflect on our country's history this Presidents' Day, let's remember that resiliency is firmly ingrained in our national DNA. I'm confident that collectively, we can tackle these issues and ensure our nation continues to thrive.
"The advancement and diffusion of knowledge is the only guardian of true liberty"

About the Author:
Lucas Minor is Marketing & Communications Manager for Washington's Guaranteed Education Tuition (GET) program. Minor manages GET's website and social media presence, and coordinates the development of print collateral, reports and articles.