Betty Lochner
Chair of the College Savings Plans Network and Director of Washington's Guaranteed Education Tuition (GET) Program
February 19, 2015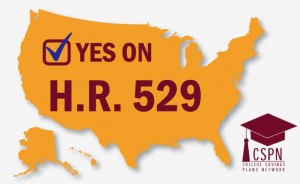 This is a very exciting time in the College Savings world as legislation to enhance 529 savings plans has legs in Congress. In fact, H.R. 529 will likely be taken up for vote in the U.S. House of Representatives sometime next week and we want to do everything in our power to ensure that it is passed. We have mobilized our members representing 49 states with 529 Savings Plans to advocate with their Representatives to pass this proposed legislation.
Implementing common sense improvements to 529 plans so that more families see the benefits of saving will only help the overall health and well-being of our country over the long-haul. These plans have proven to help limit or eliminate future student loan debt, while aiding to increase access to higher education. Here are what real families from my home state of Washington are saying about saving with our state's 529 plan better known as GET (Guaranteed Education Tuition):

•    "We are so grateful for this great program and for the educational opportunity our girls have. It makes so much sense to invest a little throughout your children's lives rather than struggle with big money when college arrives. Thank you for being there for us." — Sandy L
•    "GET has opened the door to talking to our boys about planning for their educational futures. With the high cost of tuition, GET has helped make college an attainable reality for our children. The reasonable monthly payments have been a priority for our family budget even during tough economic times." — Dawn C
•    "My niece suggested I look at the GET program and I did that when my daughter was 2 years old. I bought into the plan at a price I thought I could afford and have never looked back. It's an awesome way for even a single parent to help out a child's educational future." — Paula W
This is our opportunity to come together and rise to the challenge of improving 529 plans for American families for generations to come. Saving for college is our focus, our business, and our passion. We are putting our mission on display in order to ensure this legislation is passed. The only way we can do that is to continue to improve 529 plans by offering more incentives for families to save. Please join us and reach out to your Representatives and Senators in Washington D.C. to let them know of your support of these enhancements.


About the Author:
Betty Lochner is the Director of Washington's Guaranteed Education Tuition (GET) program. Under her leadership, the GET program has grown from 7,900 to over 153,000 accounts, with a fund valued at over $2.55 billion. Washington is unique in that their only 529 plan offered is a prepaid tuition plan. Lochner currently serves as Chair of the College Savings Plans Network (CSPN).