By Jim DiUlio, Director, Wisconsin 529 College Savings Program & CSPN Chair
January 4, 2017
We all know resolutions evaporate in weeks. (see February statistics: heath club memberships down, ice cream sales back up) Two reasons for failure are vague goals or working alone.
So here are three suggestions for you and your family to try in 2018. Each have specific ideas for planning for college. You can have conversations in the car or over dinner, and together figure out how to track your progress.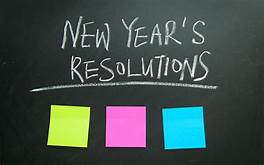 1. Bring up careers. Middle school is a good time to start the conversation about higher education and career experiences.
Explore past the traditional choices; many occupations now were unknown ten or fifteen years ago. Don't overlook hands-on technical careers, 45% of all U.S. jobs require skills and an education beyond high school but less than a bachelor's degree .
As interests develop, have your kids keep a log for later reference.
For now, encourage universal skills such as effective communication, working in teams, as well as classes that require critical thinking skills, as career changes will likely be more common in our kids' lifetime. Apprenticeships and internships while in high school are good opportunities to try out jobs. Be sensitive to imposing too many of your own ideas about school or careers; in trying to please everyone, kids may agree to something that may not work for them.
Action: I resolve to start talking with my kids about career ideas and higher education.
2. Be a smart shopper. Don't overlook the wide range of institutions out there such as public and private universities, technical and community colleges. Many schools have responded to the changing economy by offering specialized tracks, multi-disciplinary programs, dual-enrollment and even offering a two-step process – starting at one school and completing the degree at another.
If your child is interested in a specific program of study, keep in mind there may be a less-costly campus if you do some searching. Along that same line, financial aid offers from different campuses may include various grants that do not have to be paid back. When completing the FAFSA application, request that your file be sent to multiple schools (surprisingly, many do not) and you may find a bargain.
Unfortunately, student loans are now a common part the mix. Many experts say that the costs of repaying loans with interest over time are nearly double that of using pre-college savings. Borrow only what you need. Also think about anticipated income after graduation, as student loan payments should be less than 10% of that income.
Action: I resolve not to be the family that spends more time comparing lawn mower prices than making good college and financing choices.
3. Become financially savvy. Saving for college is just one part of broader planning. You also need to be saving for retirement, and building a cash reserve for emergencies. You have multiple goals, but they're all related to your age, income and other factors. A financial advisor or fee-only planner can be of great help, and there are good sources online, but you should check for credentials. Whatever path you choose, develop a game plan, stick to it and review your progress annually.
Specifically designed for education savings, 529 plans have the appropriate investments, use low-cost institutional funds, and offer tax-free growth. In addition, many states provide added tax benefits, scholarships, or creditor protection for their residents—first check out your home state's plans.
Get the kids involved, too. Start with simple budgeting, then move onto savings, compounding growth over time. Then make sure you recognize the cost of credit. Good skills learned at home will carry over when they're away at college. Add the earlier points about careers and college costs, and you are on your way to family financial wellness, just as you care about your family's medical health.
Action: I resolve to take better control of my financial life, so my kids will think I'm a financial genius.
Our resolution to you? To keep bringing you college savings and planning ideas, personal experiences, and pre-college stories in this space. Our contributors include 529 plan experts from all over the country. Follow us on Twitter and Facebook and we'll keep you updated along with other timely news.
And about the ice cream resolution, enjoy in moderation as with all rich treats.
Happy New Year to all of you and your families.
Jim DiUlio serves as Chair of the Executive Board of the College Savings Plans Network (CSPN). He is also the Director of the Wisconsin 529 College Savings Program. Currently the program's 300,000 accounts hold $5 billion in two plans: direct-sold Edvest and Tomorrow's Scholar, only available through advisors and fee-only planners.