By Betty Lochner
Director of the WA Guaranteed Education Tuition (GET) and Chair of the College Savings Plans Network
November 2, 2015
Later this week I'll be in Austin, Texas presenting at MomCom 2015. MomCom is a leading national conference which fosters community and connection between mothers. The event challenges us to shift the paradigm of work by putting families first. Many mothers do not realize the impact they have on their children's education. As a mom myself, I'm excited to join and remind the mothers in attendance of the lasting and positive impact they have!
Here's a recap of the presentation I'll be sharing: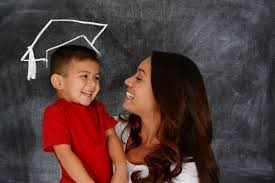 We all want to provide a bright future for our children, and part of that means saving for their college education. A 529 plan is quick and easy to set up and can help you realistically meet your college savings goals this school year—and beyond. With more than 12 million 529 plan accounts open nationally, 529 plans continue to be one of the most successful ways for families of all income levels to plan ahead, save for college and reduce reliance on student loans.
Here are three things all moms should know when planning to save for college.
1.) Define your savings goals:
The first step is to determine how much you ultimately want to save for your child's education. Do you want to save for tuition only or to include room and board? All four years of college or just two? Public or private? You can use a college cost calculator to forecast what the estimated cost of college will be when your child is ready to enroll.
2.) Start early and save often:
Start saving as early as possible – you can even open an account before you have children. The earlier you begin saving, the more time your money has to grow, and you can always increase your contributions to an account in the future. It's never too late to start saving. Remember, saving something is always better than nothing. Think of it this way: a family that begins setting aside $50 a month when their child is born can accrue over $21,000 in an account that earns 7% interest per year, by the time the child turns 18. This is just one example of how a little bit goes a long way in helping to eliminate future debt.
3.) Find Your Fit:
Nearly every state offers a 529 plan, either a prepaid tuition plan and/or a savings plan. Many plans offer tax or other incentives for residents, so it's always a good idea to look at your state's plan first. For example, your state may offer a 529 plan sold directly to investors and a plan sold through financial advisors. Your state may even offer a prepaid tuition plan. However, you don't have to go with your state's plan if it isn't the right fit for you. In fact, you can participate in almost any 529 plan across the country. The College Savings Plans Network's website, CollegeSavings.org is an excellent resource for choosing a 529 plan that best meets your saving goals and needs. You have the option of comparing 529 plans by feature and by state.
As mothers we do everything we can to ensure the best lives for our children. Investing in a 529 plan is an important stepping stone in supporting our kids' higher education and their futures beyond school. Remember: no amount saved is too small, and it is never too early or too late to start saving!
Learn more and register for MomCom 2015 at MomComLife.com.