By Patricia Roberts, Chief Operating Officer, Gift of College
November 19, 2018
Whether you're traveling from near or far to gather with family or friends, making a signature dish or two to bring to a dinner to which you've been invited or hosting a gathering at your own home, many of the ingredients for an enjoyable Thanksgiving Day are surprisingly the same ones that can make saving for college just as palatable and worthy of celebration.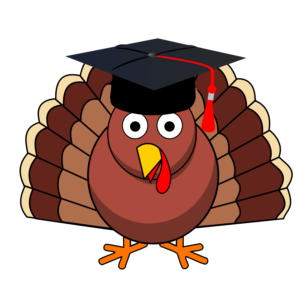 Start Early
Just as it's never too early to decide on who's hosting Thanksgiving dinner and who's making what dish, it's likewise never too early to start saving for college. Putting a 529 plan on your list of must-haves as you prepare for the arrival of your child (along with other essentials to get him or her off to a healthy start), is a smart move and assures you won't forget this important step once your family gets busy due to its expansion. Time's on your side when your child is young, and you'll be glad you started early.
Set a Vision
Just as you envision how you want your Thanksgiving gathering to ideally turn out, visualizing what you want your family's experience to be (or not be) when it comes time to pay for college is just as valuable. Keeping this picture top of mind will keep you motivated and tethered to your goal.
Get Granular
Just as you acquire a firm headcount to assure you have the correct number of place settings at the Thanksgiving table and just as you think through a precise timeline of when each item needs to go in the oven to assure everything can be warmly served together, digging into details such as what portion of college costs you hope to cover and how much you can reasonably afford to save weekly, monthly or yearly are valuable first steps. Remember that starting small is a great place to begin, and anything you save will be that much less your child will need to borrow.
Shop Around
Just as you take time to determine where to get the freshest ingredients at the best price for your Thanksgiving feast, it's useful to explore 529 plan options through sites like collegesavings.org and/or with the help of a financial or registered investment advisor. Spending a bit of time comparing state-specific features and benefits, investment options and performance as well as fees and expenses will help you decide on a plan that's a good fit for you. There are many great options from which to choose.
Don't Go it Alone
Just as you encourage others to bring food or drink to your Thanksgiving celebration to complement your main course and lighten your load a bit, it's equally important to invite friends and family to lend a hand by making a contribution to your child's college savings account in lieu of more traditional gifts throughout the year. Begin to make saving for college a family affair by carving out some time on Thanksgiving to let friends and family know your gift preference this holiday season for the future students in your life. Everyone will be relieved to take the guesswork out of what to buy the kids.
Stick to Your Plan

Just as you adhere to a detailed checklist in preparation for and throughout Thanksgiving Day to assure no detail (appetizer through dessert) is overlooked, automatic contributions to your college savings plan are a good way to help keep you on track no matter what distractions may come your way.
Share Your Recipe
Just as you willingly share recipes of your favorite Thanksgiving Day creations with those you love, be sure to let others know about the value of 529 plans. They'll thank you for spreading the word and helping them create brighter financial futures.
Savor what You Served Up
Just as you savor the sight of your guests having such an enjoyable time, you'll love witnessing the range of post-high school educational options your child will be able to explore as a result of your planning ahead. You'll also enjoy the peace of mind you'll feel as a result of not having to scramble at the last minute to figure out how to pay.
Share the Leftovers
Just as you share Thanksgiving leftovers with loved ones, any money left over in your child(ren)'s 529 account(s) can be used for a member of family of the original beneficiary (including your children's children or even yourself).
Celebrate a Job Well-Done
Just as you sigh with relief and/or lift a glass to celebrate how smoothly your Thanksgiving Day celebration turned out, you'll do the same when your child, now seated at the kids' table, graduates from college with little or no debt thanks to your planning ahead.
About the author:
Patricia Roberts is the Chief Operating Officer of Gift of College. She has been part of the 529 industry for more than 20 years, serving as an attorney, product manager, and as the chair of the CSPN Corporate Affiliate Committee.