By Betty Lochner, Director, Washington College Savings Plans
May 22, 2018
The future belongs to those who believe in the beauty of their dreams.
~ Eleanor Roosevelt
Graduations are times where one journey ends and another begins. It's a time when we celebrate and congratulate students on their success and wish them the best for their future.
These ceremonies mark and celebrate an achievement at all stages of life: Preschool, Kindergarten, Elementary School, Middle School, High School, College and more.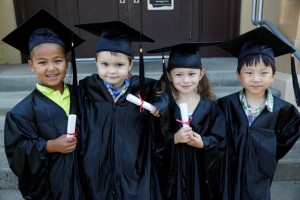 Whether you are a parent, grandparent, aunt/uncle or friend of a graduating student, you'll want to mark the occasion with a special gift.
And the most special gift of all is one that helps prepare a promising graduate with a successful future.
For younger students, it's hard to go wrong with a contribution to a 529 college savings account. Whether you open a new account, or contribute to an existing account through a gift, you are contributing to the future of that student for any post high school education. Studies show that students who know they have college savings are more likely to succeed in school and go on to college. By 2020, two-thirds of all jobs will require some type of post-high school education. Every little bit you can do today to support your student will pay huge dividends in the future.
For older students graduating from high school or college, here are three creative and useful gifts you can give to complement their education.
It's never too late to contribute to a college savings account.
Money is the #1 gift given to high school and college graduates, and you should consider giving it in the form of a contribution to a 529 college savings account. This will ensure that the funds will be used for college expenses including housing, books, and other supplies. Even if students have funds for college already set aside, there is almost never enough to get them through all the expenses they will incur. And for college graduates, you can help set them up with funds to use for future graduate school or professional development.
Services are also a great option.
If you don't want to contribute money, give a certificate for a pre-paid career coach to help your graduate identify goals and make a plan to get there. Supporting students after they graduate is just as important as supporting them beforehand. Students entering the job market face a wide range of career choices, so having help in navigating this process will make a huge impact on connecting them with a successful and fulfilling career.
Time is one thing that costs little or no money.
Do you have a special skill you can share? Connections you can help make? Or have some general life advice to pass on? Take your graduate to coffee or lunch and give the gift of your time and expertise.
As you enter this season of graduations, take time to get creative with gifts that will help your student in the future.
Betty Lochner is the Director of Washington College Savings Plans. In addition to the Guaranteed Education Tuition Program (get.wa.gov), Washington has just launched the DreamAhead College Investment Plan that is open nationwide (dreamahead.wa.gov)