By Tim Gorrell, Executive Director, Ohio Tuition Trust Authority
August 29, 2016
Being a saver, you completed your bargain hunting at the back-to-school sales. Maybe you live in a state that has a sales tax holiday and you took advantage of those savings too. Being a savvy saver, you deposited those savings into your child's 529 plan account. Now, you're looking for other means to reach your college savings goals.
Here are some ideas to boost the balance in your 529 plan.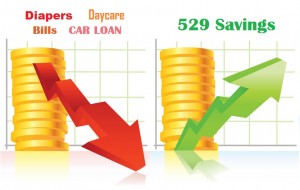 1. Build Your Savings With Disappearing Expenses
Add the money from disappearing expenses to your child's 529 plan. Disappearing expenses are those costs in your budget for a limited time span. For instance, preschool is a large disappearing expense for families. Once your child starts kindergarten, consider rolling over your former preschool or day care costs into regular contributions to your 529 account. You won't miss it and you are continuing to support your child's educational needs.
Other disappearing expenses can include paying off a car loan, medical or dental bills, credit card debt, or even your own student loans. Once you have a zero balance on those obligations, you can roll those budgeted dollars into your child's 529 plan instead. Again, these items have been part of your budget so you aren't losing any additional income by transferring those dollars to a 529 account. And as you know from paying off those bills, it's far cheaper to save now than pay off loans later.
Speaking of additional income, many account owners will also contribute a portion of an annual raise, bonus, or even their tax return refund towards a 529 plan.
2. Build Your Savings With Help From Others
Family and friends want to give meaningful gifts for the milestones in your child's life. You can ask them to consider contributing to your child's 529 plan in lieu of gifts for baby showers, birthdays, holidays, graduations, and other special occasions. Most people would rather give the gift of college than another toy, which will be soon forgotten. The gift of college is a legacy that will always be treasured and appreciated.
3. Build Your Savings While Shopping With Upromise
With no cost to join, you can save even more money for college through Upromise. Connected with hundreds of America's leading companies, your Upromise membership can earn you cash back as you shop as you normally would. By linking your Upromise account to your 529 plan, your earnings can be automatically transferred on a periodic basis, subject to a set minimum dollar amount.
4. Build Your Savings With Automatic Contributions
This is a tried and true savings method. Simplify your life and savings by setting up automatic recurring contributions from your bank account or paycheck. Many 529 plan account owners say the easiest way to save is to automatically transfer the money before you have a chance to spend it elsewhere.
You can align your automated 529 plan deposits with your paydays or set a monthly contribution schedule. Even if you're putting away a minimum amount, it can add up!
About the author:
Tim Gorrell is the executive director of Ohio Tuition Trust Authority. For more than 25 years, Ohio Tuition Trust Authority has sponsored and administered CollegeAdvantage, Ohio's 529 College Savings Program. CollegeAdvantage now oversees more than 641,000 accounts and over $9.63 billion in assets. Visit CollegeAdvanatge.com or call 1-800-AFFORD-IT (233-6734) to learn more.