(Part 2 in a series based on the findings from the 2012 Mid-Year 529 Report)
By Mary Anne Busse,
Managing Director, Great Disclosure LLC
Last week, we reported that data collected as part of our  2012 Mid-Year529 Report indicates that more families are using 529 Plans than ever before. 529 Plan assets reached record amounts as of June 30, 2012 with $179.02 billion invested nationally. This is an 8.6% increase during the first half of 2012. This week, we'll focus on some other highlights from the report.
Average Account Size
The Report shows that as of June 30, 2012, 529 Plan accounts reached an average account balance of $16,298. In 2002, the average account balance was $9,688. Although the increase in savings may be an encouraging number, take a look at some other relevant numbers. The College Board's Annual Survey of Colleges shows that in-state tuition and fees (including room and board) at public four-year institutions averaged $9,689 in 2002-2003 and $17,131 in 2011-2012.

This means that even though you may be saving more in your 529 Plan account, the average 529 saver has kept pace with, but not surpassed the increase in the cost of higher education. The good news is that although the average savings is only a quarter (or less) of the cost of public higher education, it's a big step toward funding your child's college education.
The Report shows that contributions to new and existing 529 accounts nationwide exceeded $20.1 billion from July 1, 2011 to June 30, 2012. Nearly half (44%) of all 529 accounts received contributions in the first half of 2012. The chart below shows the percent of 529 accountswith activity for 2002-June 30, 2012.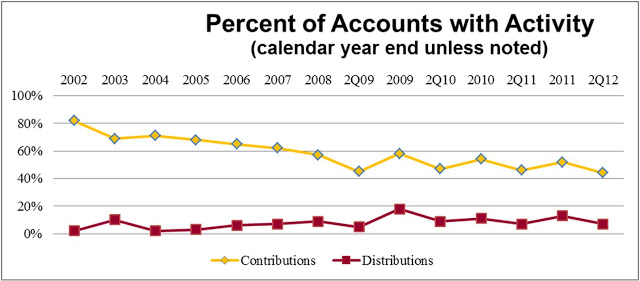 Conclusion
The Report concludes by noting that the need for higher education has never been more important. As of 2007, 59% of America's jobs required at least some college education, according to the Georgetown University's Center on Education & the Workforce. By 2018, it is anticipated that more than 63% of American jobs will require some higher education. Additionally, the Center reports that by 2018, the postsecondary education system will have produced 3 million fewer college graduates than demanded by the labor market. In light of the increased need for college graduates in our workforce and the continued rapid increase in the cost of attendance, now is the perfect time to reevaluate your commitment to higher education. Whether you increase your monthly contributions or encourage family and friends to contribute to your 529 Plan account instead of buying presents for your children, the benefits of increased savings can be significant. Even small steps can make a big impact. For example, by committing to save an additional $50 per month, in 10 years, you could contribute an extra $6,000 to your child's college education.
If you are new to 529 Plans, check out the Getting Started website for information on 529 Plans, how they work and how to compare Plans.
---
About the Author:
Mary Anne Busse is the Managing Director of Great Disclosure LLC, a full service consulting firm dedicated to the 529 Plan marketplace.

 

Great Disclosure represents 529 Plan administrators on all aspects of 529 Plan administration, marketing, and operations.