By Jodi Golden
Director, CollegeChoice 529 Savings Plans
October 25, 2012
It's October so you know what that means – pumpkins, trick or treating, costumes and scary activities! For children, haunted houses and ghost stories from the past may scare them. Mom and Dad however, may be scared of the "what ifs" of the future: how will we save for retirement? Or for our children's education? There are some scary tidbits out there:

Tuition and fees at a public, in-state, four year school rose 6.4% for the 2011-2012 academic year and appear to be growing faster than inflation.
The average tuition and fees cost $6,604 for a four year public college/university, and $25,838 for a private institution.*
Student loan debt has surpassed 1 trillion dollars.**
Half of your time horizon for saving for college is over by the time your child reaches third grade.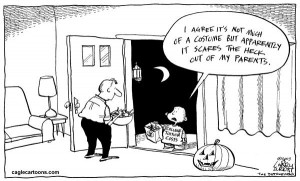 While these figures can be very frightening, don't let them send you running scared. Saving for college through a 529 College Savings Plan can make those scary nightmares disappear! Saving in a 529 plan is simple and can save your loved one from a lifetime of education debt. A great option for college savings, 529 Plans provide easy-to -use investment options along with advantageous tax benefits, making savings far from a distressing task.
If you're looking to REALLY be scared silly, consider the horrifying amount of debt your loved one may graduate with, should you neglect to start saving for their education today. Let's look at two hypothetical scenarios:
Suzy's parents start investing $100 a month into a 529 plan account right after Suzy was born. In 18 years, (assuming a 5% annual rate of return) they could potentially save over $35,000. ***
Suzy has to borrow $35,000 to attend college. Based upon a private student loan rate of 7.0%, Suzy could be faced with a monthly payment of $406 for 10 years or a pay back amount of $48,720****.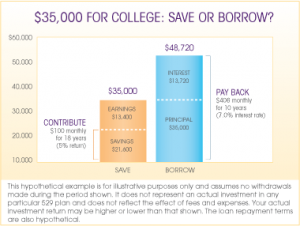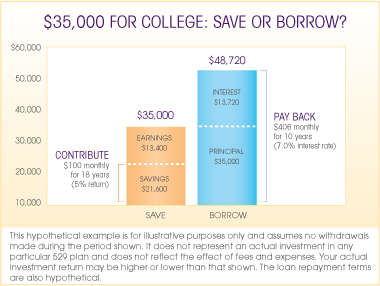 Which scenario would you rather see your child or loved one in? Facing the reality of saving and paying for college can be a bloodcurdling situation, but with the ease of saving through 529 plans, much of that stress and fear can be eliminated. Most 529 plans permit family and friends to make contributions to your account, providing great opportunities to help supplement your own savings. Enjoy the Halloween holiday with your family by starting your 529 Plan today. Maybe even give someone you know a little 529 contribution treat!
Learn more about your state's 529 Plan at www.CollegeSavings.org.
*The College Board, "Trends in College Pricing 2011"
** Consumer Financial Protection Bureau, "Too Big to Fail: Student debt hits a trillion", March 21, 2012
***A plan of regular investment cannot assure a profit or protect against a loss in a declining market.
****Hypothetical loan details are for illustrative purposes and don't represent the actual terms and conditions of a student loan.  Actual terms, including interest rate will vary. 
Halloween cartoon from Cagle Cartoons, 2003.
About the Author
Jodi Golden is Director of the Indiana Education Savings Authority, which oversees the Indiana CollegeChoice 529 Savings Plans.  Under her leadership, Indiana has experienced an over 900% increase in both the number of Hoosiers saving and the amount of Hoosier assets in the plans.  Indiana offers a Direct and Advisor 529 Investment Plan, as well as recently adding FDIC-insured Certificate of Deposit products. Golden currently serves on the Communications Committee of the College Savings Plans Network.