By Terry Crockett
Marketing Analyst, Virginia529 College Savings Plan
July 28, 2014
Finding the right college savings plan can often be tricky.  Does your state offer tax advantages to residents? What about a prepaid tuition plan? We won't even get started on advisor sold plans vs. direct sold plans. Let's face it–the average consumer just doesn't have the industry knowledge to make a well informed decision when opening a 529 account.

Fortunately, this daunting task can be made much easier by utilizing the numerous resources available on the CSPN website. And while there are many, today I plan to touch on three that I find to be particularly useful and relevant:
Let's start by examining the Compare 529 Plans Tool. This remarkable resource allows you to compare different plans by state or by program (such as plan type, tax advantages, investment manager, and much more) and can be accessed through the main website navigation by selecting "Compare 529 Plans." Once you have selected your desired criteria, you are presented with a nifty table that can display and compare up to five plans at once, allowing you to easily hone in on the specific plan that is right for you. The value of this feature cannot be undersold!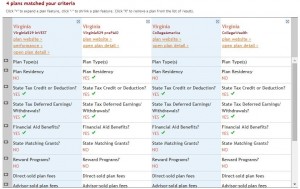 This screenshot neatly illustrates the table view of the Compare 529 Plans Tool.
Another terrific resource is the College Cost Calculator.  It's no secret that since 1990, tuition inflation has outpaced energy, real estate, and even healthcare. On average, tuition tends to increase about 8% each year, which means that the cost of tuition essentially doubles every nine years!   Even experts can't tell when or even if the costs will ever stabilize, which makes predicting future expenses all the more difficult.  However, the College Cost Calculator simplifies the process and allows you to estimate your future college costs based on your student's current age, college type (in-state vs. out of state, public vs. private, 2-year vs. 4-year), projected inflation rate, years attending, and more.
Let's look at an example. The Smith's have a one year old daughter and want to open a 529 account.  They already decided on a plan with help from the Compare 529 Plans tool and are now trying to determine how much they need to save each month.  Using the College Cost Calculator, the Smith's input their information.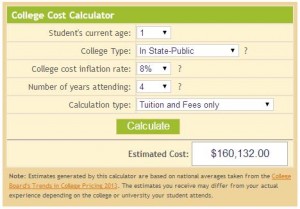 The College Cost Calculator is the best way to estimate future college expenses.
The first selection they make is the student's age—in this case, one. They would then decide on college type, which is a choice between in-state community, in-state public, out of state, and private.  In this scenario, we will select in-state public. We will also use the historical average rate of tuition inflation and calculate for tuition and fees only. We then find that the Smith's can expect to pay roughly $160,000 in tuition and fees when their daughter is ready to attend college. They can do some simple math to determine the monthly contribution needed to meet their goal.
The final resource is the FAQ page, which is labeled as Common 529 Questions. To access this page, you will need to find the link "Common 529 Questions" located in the left column under '529 Resources" on the CSPN home page.   Once you land, you are presented with four broad categories of FAQ's:
In total, this page addresses over 40 of the most frequently asked questions about 529 plans. Of course, the specificity of some questions may not be covered here. In those situations, it's often best to reach out to your preferred 529 provider or financial advisor for additional clarification.
About the Author:
Terry D. Crockett is the Marketing Analyst at Virginia529 College Savings Plan.   Virginia529 is the largest 529 plan in the country with four 529 programs – one prepaid program and three savings programs – and more than 2.3 million accounts with assets under management in excess of $50 billion as of March 31, 2014.