By Anita Kelley, Savings Director, Alabama State Treasurer's Office
July 13, 2021
Hello Summer!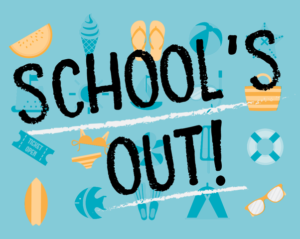 It's been a very long time since I was in school and had summer vacation to look forward to, but I still get a little excited each year as the time  approaches.  Maybe it's because as a kid, this was the ultimate thing you looked forward to each year. Summer meant freedom in many ways. Freedom from the alarm clock, teachers and tests, and the opportunity to do absolutely nothing or anything your parents would allow. I can  remember playing hide and seek with neighborhood friends, catching as many fireflies or frogs as you could, picking wild honeysuckle and anything and everything to do with water. I also remember riding bikes ALL DAY LONG and playing outside until the streetlights came on (which was the universal signal for supper time, bath time and bedtime).
Having that freedom and break is important, but it is also important to keep our children's minds sharp through the summer months. A study published in July 2020 in the American Education Research Journal, followed students in grades 1 through 6 over five summers. It showed that 52% of students lost an average of 39% of their total school year gains during the summer months.  I knew that knowledge loss over the summer months was real, but I had no idea it was this high.
As we age, doctors agree that healthy cognitive habits are essential to keeping our minds fit and to guard against memory loss. The same philosophy could be said for school students. Freedom from all learning and structure can be detrimental to their learning process and keep them from getting ahead of or even keeping pace with their peers.
There are so many easy and fun ways to keep our children's minds active over the summer months and it doesn't require that much time. If you can make them commit to 30 minutes a day doing some sort of learning activity, the end results could be very beneficial.  Below are some ideas you can try at home this summer. They are listed by the correlating school subject:
Civics and Social Studies
Have them find current events. Make it a mix of local, national, and world and have them read them to you and explain what their understanding of the event is.
Writing
Have them handwrite a letter to their grandparents and mail it or send birthday cards to friends.
Science
Get some large planters and let them grow tomatoes, cucumbers, or strawberries.
Catch (and release) backyard bugs. Have them identify the type of bug and then research the insect and give you fun facts they learned. I loved Roly Polies!
Vocabulary/Spelling
Create a word basket where you have selected new vocabulary words. Write them on slips of paper and each day have your child draw a word. They have to look up the meaning of the word and use it a minimum of five times that day.
Reading
Make a summer reading list of a few books with dates for progress check ins. You could also make a list of short stories for them to read. One of the short stories I remember reading as a child is "Stone Soup."
Math/Finances
Review your monthly 529 statement with them. Compare this month's balance to previous months. Go over any contributions/distributions in the account.
Summer is a fabulous time to rest, relax and enjoy all of the pleasures of the warm season. Kids need to enjoy this time and make just as many memories as we did when we had our summer vacations. In addition to the summer fun, encouraging your children to participate in summer learning activities will not only give them some structure, but also give them the head start they need in the fall. And who knows … you might find yourselves having fun and making memories!
About the Author
Anita Kelley is the Savings Director for the Alabama State Treasurer's office which oversees the CollegeCounts 529 Plan. Alabama's 529 plan oversees more than 104,847 accounts and over $2.28 billion in assets under management as of March 31, 2021. Visit CollegeCounts529.com or call 1-866-529-2228 to learn more and start investing in your child's future.