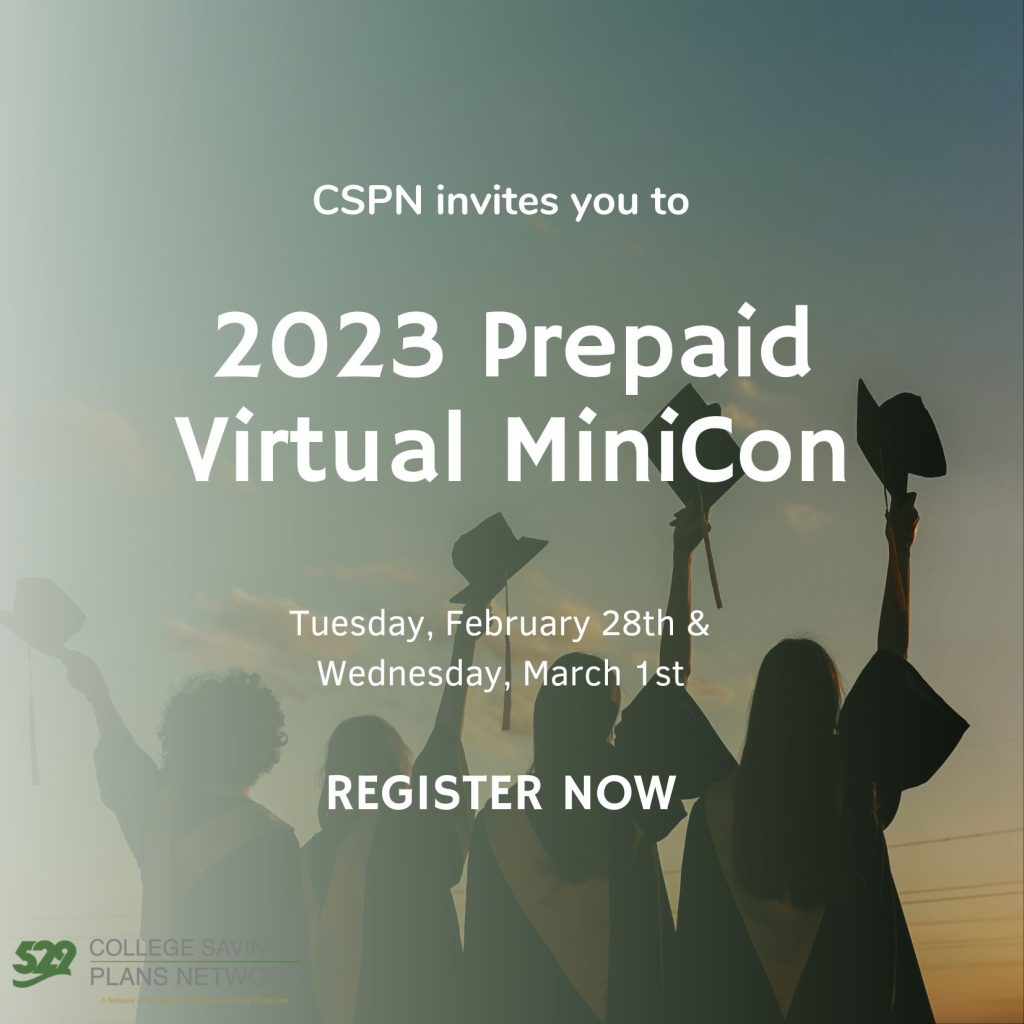 Day 1 – February 28, 2023
1-1:15 pm Welcome and Overview – Luke and Alisa
1:15-1:20 pm 5-Minute Break to Set Up for Panel
1:20-2:30 pm Session #1

Growing Pains – Lessons Learned

Moderator: Chris McGee, General Counsel (Virginia529)

Speakers: Mary Morris, CEO (Virginia529), Treasurer Young Boozer (Alabama)

Summary: This session will focus on lessons learned from nearly three decades of prepaids with discussions of recent events impacting plans. Representatives from Virginia and Alabama will share their stories managing stakeholder interest in the financial trajectories of their prepaid plans.
2:30-2:40 pm 10-Minute Break
2:40-3:50 pm Session #2

Prepaid Plans – The Next Generation
Moderator: Soohyang Lee, CFA, VP (AKF Consulting)
Speakers: Linda Fernandez, Director (Educational Opportunities and Investments Division at the Texas Comptroller's Office), Alan Perry, Principal and Consulting Actuary (Milliman), Glenn Ross, Managing Partner (Marquette Associates)
Summary: This session will look ahead to see what trends will influence the trajectory of Prepaid Plans. A panel of industry experts will examine short- and long-term factors (both internal and external) that shape the prepaid landscape today and inform where we go next as an industry. Along the way we will examine key considerations in administering prepaids such as tuition trends, financial markets and investment policies, funded status monitoring, and product design.
3:50-4 pm 10-Minute Break
4-5 pm – Prepaid Committee Meeting
Day 2 – March 1, 2023
1-1:15 pm Welcome & Recap of Day 1 – Luke and Alisa
1:15-2:30 pm Session #3

The Neverending Story – Controlling the Message Year-After-Year

Moderator: Lael Oldmixon, Executive Director (Alaska 529)

Speakers: Dr. Tya R. Mathis-Coleman, Deputy Treasurer (Nevada State Treasurer's Office); Jackie Ferrado, Community Relations Manager (WA529); Heather Barthelmes, Marketing Manager (Michigan Education Trust)

Summary: This session will focus on how to manage the message, especially when there's the opportunity to clear up misconceptions. Hear directly from state administrators who are on the frontlines everyday building and protecting the brands of their prepaid plans, building strategic partnerships, and tailoring their plans to the needs of their state residents.
2:30-2:40 pm 10-Minute Break
2:40-3:50 pm Session #4

Risky Business – Prepaid Operational Risk Management

Moderator: Sherri Wyatt, Chief Compliance Officer (Virginia529)

Speakers: Will Thompson, Deputy Executive Director (Florida Prepaid), Rick Stierwalt, Executive Vice President of Regulatory & Compliance (Catalis), Jason Schlenker, EVP (Inktel Contact Center Solutions),

Summary: This session will review a case study of the Florida Prepaid model, which will provide attendees with insights into the intricacies of and the various roles and responsibilities needed in administering a prepaid plan. Hear from prepaid operations experts on what it takes to keep your prepaid plan in tip-top shape year-over-year while managing operational risk.
3:50-4 pm Closing remarks – Luke and Alisa
Mini-Con Content for Download
Check back here for MiniCon / session materials for download
Recording of Day 1 / Recording of Day 2
This MiniCon is curated for all CSPN members (states and corporate affiliates) who administer prepaid tuition plans, but we would also like to stress that the invitation is open to and may benefit all CSPN members. We look forward to seeing you and discussing topical issues impacting prepaid plans and how states are continuing to adapt to keep their plans relevant in a changing world.
There is no cost to CSPN/NAST members who want to participate in the Minicon. Simply register using the link in the graphic above and participate in the this year's MiniCon.