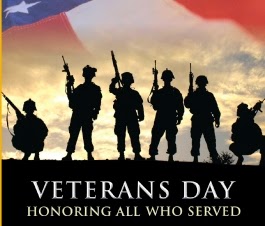 By Mary Anne Busse
Managing Director, Great Disclosure LLC
Nov. 11, 2014
With the celebration of Veterans Day this November 11, I think of the countless thousands who fought and died for our freedom – from the bloody battles of the Revolutionary War and the Civil War to the War on Terror today, one thing remains the same – the unwavering courage and strength of those who fought bravely and selflessly for the freedom of so many.
This year, I'm particularly reminded of our military men and women who have served faithfully and bravely, but may be forgotten too soon.
There are heroes like Dr. Mary E. Walker who received the Medal of Honor on Nov. 11, 1865 – the only woman to receive such an honor! She served as a surgeon during the Civil War and was even a prisoner of war for four months. She served at the Battle of Bull Run, the Battle of Chickomauga and the Battle of Atlanta. The Navajo Code Talkers were a remarkable group of Native Americans whose unique abilities allowed them to serve during World War II and create a code that was virtually impossible to decipher. Military experts believe that were it not for the Code Talkers, the Marines would never have taken Iwo Jima!
I also love the story of Lt. Col. Nicole Malachowski who, in 2006, made history as the first woman to fly with the Air Force's Thunderbirds. She served as Thunderbird Number 3, flying in the right wing position in the diamond formation.
Today, there are thousands of everyday heroes serving to protect our liberty. Names like Maj. Mark Thompson, Staff Sgt. Clayton Gorton and Former Airman First Class Charity Trueblood may not be household names, but they are names honored above others as true American heroes. You can learn about their stories of bravery and commitment at ourmilitaryheroes.defense.gov. Their stories are truly captivating!
Here's to our everyday heroes. On behalf of the College Savings Plans Network, thank you!
About the Author:
Mary Anne Busse is the Managing Director of Great Disclosure LLC, a full service consulting firm dedicated to the 529 Plan marketplace.  Great Disclosure represents 529 Plan administrators on all aspects of 529 Plan administration, marketing, and operations.