By Ryan Betz
Associate Director, Marketing & Communications
Washington's Guaranteed Education Tuition (GET) program
Aug. 18, 2014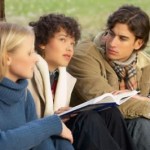 Right now, thousands of recent high school graduates across our state are gearing up to leave for college in just a few short weeks. The questions that come with leaving for college can be a bit unnerving so I thought I would share some advice and tips for surviving the first year and making the most of your time on campus.


First, let me start off by saying that as a kid I struggled with my academics. It was not for a lack of effort, I just did not thrive in a traditional school setting. At one point my standardized test scores were so low, several teachers advocated that I be put in special education. Over time I learned some creative study skills and with my work ethic I was able to grit my way to college. It was not an easy journey; so to say I was nervous about heading off to a school 350 miles from home would be an understatement! The following are the four most helpful tips I learned my freshman year:
Create a Support Network
One of the best things I did my freshman year was arrive on campus a couple of weeks before classes started and take part in just about every orientation activity that was offered. This gave me a great opportunity to meet new friends in a low stress and no pressure environment before syllabuses were handed out and homework began to pile up. Crazy as it sounds, those kids I met in the first few weeks became some of my closest friends in my four years at school. One of those friends even ended up becoming my wife! Those friendships were critical in providing support when times got tough.
Try New Things & Have Fun
In high school, my free time activities were consumed by sports and a part-time job, which did not leave much time to experiment and try new things. College gave me the opportunity to take part in student government, write for the newspaper, get involved with Greek life, try fly fishing and river rafting, and take some different classes like water polo, anthropology and sports management. I made a point to say yes to every new and healthy opportunity, figuring the only way I was going to expand my horizons was if I pushed myself out of my comfort zone.
Take Advantage of Campus Resources
One of my biggest worries walking on campus for the first time was wondering what kind of support I could find if I began to struggle academically. I was surprised by the number of free resources available to me. From teachers' assistants (TA's) to tutoring and study groups, computer labs to career counseling, I found an endless number of people willing to help me if I just asked.
Be Committed to Learning
College was the first time in my life where learning became fun. Finally I was studying subjects of my choosing and I could see the relevance of the knowledge and skills I was gaining. What I found was the more I invested in my education the more people invested themselves in me. As I began to see the positive results of my efforts I looked for new and creative ways to study and take notes and tackle class projects. Slowly I began to build a portfolio of my work that ultimately played a crucial role in helping me secure my first job out of school.
My biggest take-away was that learning never ends and there will always be homework; however, the dividends that come along with the investment of education are life-changing!
About the Author:
Ryan Betz is the associate director of marketing and communications for Washington's Guaranteed Education Tuition (GET) program.