By Betty Lochner, Director of Washington's Guaranteed Education Tuition program
March 13, 2017
This month many of us become a little Irish as we celebrate St. Patrick's Day. The holiday is full of symbols that we hope will bring good luck to us and our families. Whether we're covering every surface in Shamrock décor, or draping ourselves in every green article of clothing we own, we all hope we find the elusive Pot of Gold at the end of the rainbow.
Having luck and a pot of money waiting for us to use for college costs would be nice, wouldn't it?
This year I became a Grandma and now, more than ever, I'm thinking about how I can help my grandson have that pot of money waiting for him. It takes planning and discipline, but it can be done. My husband and I did it for both of our kids and they finished college nearly debt free. And now we are encouraging our kids to do the same for their kids (and future kids) and we've decided to help.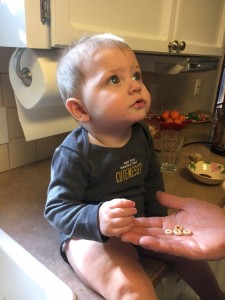 Our sweet grandson, Azriel, is about to take his first steps, but we took our first steps to saving for his college dreams several years ago. When our kids graduated from college, we took the amount we had been saving per month and opened a 529 college savings account for future grandkids. We put one account in each of our children's names. My daughter's account for Azriel is now worth about $5,900 and he is only 9 months old. We'll continue to contribute to the account – at least $100 for each birthday and Christmas – for the next 18 years. By the time he's ready for college, our small contributions will add at least another $3,600 in principal alone. If his parents try to double that effort, maybe add their annual tax return, and get the word out to other relatives for gifting, Azriel could easily have the cost of two or more years of college paid for.
And, there's more than just the satisfaction of helping build our grandson's dreams. A 529 savings account grows tax free, and there are gift and estate planning benefits too. You can find out more and at www.collegesavings.org.
When it comes to paying for college, with a little discipline and planning, we can all help build that pot of gold at the end of the rainbow.
About the Author:
Betty Lochner is the Director of Washington's Guaranteed Education Tuition (GET) program. Under her leadership, the GET program has grown from 7,900 to over 100,000 accounts, with a fund valued at over $2 billion. Lochner currently serves as Past Chair of the College Savings Plans Network (CSPN).