By Mary Morris, Virginia529
May 23, 2016
If you're like me, you can't help but love this time of year. The flowers are blooming, the weather is warming up, school is winding down and 529 Day is just around the corner!
Not on board with that last point? Let me explain. May 29 is 529 College Savings Day, a day to raise awareness about the value of planning and saving for higher education expenses with 529 plans.
The nation celebrates this important date in many ways, making the entire month an exciting time for families to focus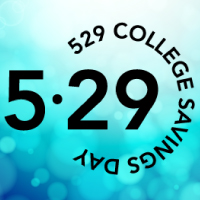 on saving. Month-long sweepstakes, money match offers for new accounts, and giveaways to babies born on May 29 are just a few of the ways that states are commemorating the occasion. Take a look at this interactive map to see how your state is celebrating! 529 Day also provides an opportunity to remind everyone about tips to amp up savings throughout the year.
No matter where you live, you can participate in the College Savings Plans Network's Facebook promotion (done in partnership with Diapers.com). To enter the "Diapers to Diploma" giveaway, simply like or comment on this Facebook post; you'll automatically be entered into a drawing for one of two $200 529 plan contributions.
You can also celebrate 529 Day on your own in a variety of ways:
* If you haven't already, open a 529 account – for yourself, your kids or grandkids. (With so many 529 Day promotions in effect, this could be just the opportunity you've been waiting for.)
* Already saving in a 529 plan? Consider adding money this month – either as a one-time contribution (a 529 Day present to your future!) or by starting or increasing automatic monthly contributions.
* Spread the love by making a gift to a family member's or friend's account.
With so many ways to celebrate the savings of 529 Day, it's clear why this is one of the best times of year. After all, when was the last time celebrating made such a positive impact on your financial future?
About the author: Mary Morris is CEO of Virginia529 College Savings Plan. In addition to directing the operations, resources and investments of Virginia529, Mary advocates for state and federal legislative and governance issues relating to the 529 industry. Mary serves as chairman of the board of the College Savings Foundation and is actively involved in the College Savings Plans Network and the National Association of State Treasurers Legislative Committee. With 2.4 million accounts and almost $56 billion in assets under management across the country, Virginia529 is the largest 529 plan available.