By Betty Lochner, Director, Washington College Savings Plans
June 20, 2018
Just a few short months ago, I lost my beloved dad, known by all as "Gramps." He was 90 and very ill. It is a relief to know he no longer suffers, but I still miss him in so many ways. Most of all, I miss the wise advice he gave and how he showed his unconditional love for me.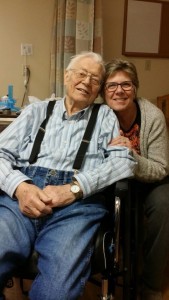 When I was growing up, my dad never talked about if I would go to college – he expected that I would go to college. He talked about what I wanted to study, what I saw myself doing with my life, and what kind of lifestyle I wanted. He told me that I could go to any public college in the state and he would pay all of the costs.
I only recently learned that he was wise way beyond his years in preparing me for college. Studies show that children who know they have someone helping them plan for college financially, are up to seven times more likely to go to college.
My dad not only helped financially, but he also believed in my future. He did the same for my siblings. All four of us, as first generation college students, finished our degrees and eventually went on to get graduate degrees.
My dad helped launch the future of two teachers and two public servants by simply making sure we all got a college degree first.
About 175 College Savings Plans Network (CSPN) administrators met recently in Orlando as part of the annual National Association of State Treasurers (NAST) Treasury Management Training Symposium to exchange information and ideas about how we can best help families nationwide fulfill the dreams they have for their children and grandchildren.
CSPN's #1 goal this year is to increase public awareness of the value of saving for postsecondary education through 529 plans.
Here are just a few national stats that support the need to increase our national awareness:
Seven in 10 Americans still do not know what a 529 plan is (Edward Jones, 2017).
Federal Student Loan Debt is growing at more than seven times the current rate of inflation.
Student loan debt is the now the second highest consumer debt category – behind only mortgage debt (Federal Reserve, 2017).
45 percent of single-parents put saving for their kids' education as the top reason they want to develop a long-term financial plan (Allianz, 2015).
Thirteen percent of families used 529 plans in 2016-17, down from 16 percent the prior year, and the lowest percentage in the past five years (Sallie Mae, 2017).
We want to empower a generation of savers that will reduce the burden of student debt on our society and increase access to post-secondary education for all children.
And, like my dad, we all want to set our children and grandchildren up for the best future possible.
About the Author
Betty Lochner is the Director of Washington College Savings Plans. In addition to the Guaranteed Education Tuition Program (get.wa.gov), Washington has just launched the DreamAhead College Investment Plan (dreamahead.wa.gov) that is open nationwide.