By Betty Lochner, Director of Washington's Guaranteed Education Tuition program
June 26, 2017
School may be out for the summer, but it's the perfect time to teach some financial literacy skills to help your students succeed. Recent research shows why kids need your help:
• 62% of college graduates expect to complete school with an average of $27,236 in student debt (The Student Monitor).
• More than 19% of American households have college debt (Pew Research Center).
• Around 56% of adults don't have a budget (Nation Foundation for Credit Counseling).
• 76% of college students wish they had more help in preparing for their financial futures (KeyBank).
• Over a third (35%) of graduating high-school seniors feel unsure or unprepared to manage their personal finances (Capital One Financial Corp).
• Only 20 states currently mandate personal finance education in their schools (Council for Economic Education).
• Individuals who receive personal finance education have higher rates of savings, make bigger contributions to their retirement accounts, and have a higher net worth (U.S. Department of the Treasury).
Here are five small ways you can incorporate teaching financial skills to your children this summer.
1. Practice practical math.
Studies show that the school subject that has the most impact on students' financial outcomes is math. Students who take additional math courses practiced better credit management than other students, and had a greater percentage of investment income as part of their total income. Encourage solving every day math problems, or do math worksheets together as part of your summer routine.
2. Open a bank account.
School-aged children can learn the value of handling their own bank account, no matter their age. Depending on their age and maturity level, they can learn to track expenses and pay with a debit card (and learn the consequences of over-drafting). They can also learn to read a monthly statement and review credit card offers to see how interest rates and credit works (MoneyLessonsforLife.com).
3. Learn about and utilize a Moonjar.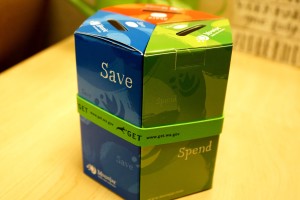 A Moonjar is a kid-friendly tool that teaches kids how to use their money. The Moonjar has three coin slots: one labeled "spend," another "save," and a third "share." The idea is to encourage children to save a portion of their money (teaching them about budgeting, delayed gratification, and making wise spending decisions); and to put money aside to share with others (demonstrating that your family feels it's important to give to worthy causes).
4. Build budgeting skills.
Pick a small event, like a visit to the grocery store for fruit or snacks, and give your child a budget. As the child decides what to buy, they can learn to distinguish between needs and wants. With older children, parents can talk about the family's daily finances, starting with actual bills. Show them the cellphone or utility bills and explain how they're paid monthly.
5. Model good financial behavior.
Practice discipline in your own spending. Remember the concept, "if you can't afford it, don't buy it." This one may the most important, yet the hardest, of all.
This summer, talk about financial issues and ideas as often as possible: over dinner, while you're playing games, when you're shopping, or when you're planning for a vacation. Look for teachable moments and grab them (find additional resources here).
Helping your kids create responsible financial habits while they're young can be an investment that pays off huge for their future.
About the Author:
Betty Lochner is the Director of Washington's Guaranteed Education Tuition (GET) program. Under her leadership, the GET program has grown from 7,900 to over 100,000 accounts, with a fund valued at over $2 billion. Lochner currently serves as Past Chair of the College Savings Plans Network (CSPN).