By Hon. Michael L. Fitzgerald, State Treasurer, State of Iowa
January 5, 2021
Many people are ready to close the calendar on 2020 and focus on 2021, and I don't blame them. To say 2020 has been a tough year may be an understatement, but the New Year gives us the opportunity to learn from the past and look to the future. With all that happened this past year, it may not feel right to make some of the traditional New Year's resolutions. We learned in 2020 that financial security and traditional education can be challenged by something outside of our control. In 2021, take the opportunity to focus on the future, not just for you, but for the children in your life as well.
Are you saving for their future? Make a resolution to talk to your children or grandchildren about their dreams for their future. Each year at the Iowa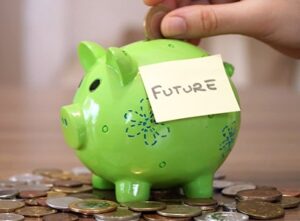 State Fair (when it isn't cancelled due to a pandemic), we ask kids what they want to be when they grow up. Many times we hear the traditional teacher, professional athlete or doctor/nurse. But every once in awhile we hear something outside the box, like a princess, dinosaur or yes, even state treasurer. There is nothing more uplifting than hearing a child talk about their dreams. What a great way to start a year!
As Iowa's state treasurer, I know the value of investing, and as we begin 2021, I think about what my grandchildren's futures will look like. We don't know to what extent the pandemic will change how young people will learn, but we know that education will remain a value in our world. And did you know that a child with a dedicated college savings account is six times more likely to continue education after high school graduation? A 529 plan makes it easy to save for whatever their dreams may be since it can be used for anything from college to an apprenticeship program. I encourage you to open a 529 account or increase your contributions and talk to them about why you're saving for them. I'm not sure, but I bet even our future princesses and dinosaurs will find they need an education to make their dreams happen! If you invest in them, they will invest in their future, and there is no better investment I want to make than the future of my grandkids.
In addition to the benefits for the child, a 529 plan has many benefits for the investor as well. You can decide how much you want to save and, as a grandparent one of my favorite features is that you, the investor, maintains control over the account. The tax benefits are also hard to beat. The money grows federally tax deferred and is tax exempt if used to pay for qualified expenses. Many states, like Iowa, enhance the tax benefits by providing deductions, credits and similar deferrals. While there are many great resources to help with your search for the right 529 plan, I recommend starting by looking at the 529 plans offered by your state of residence to see if there are any additional tax benefits for state taxpayers, then visit the College Savings Plans Network website – CollegeSavings.org – to learn more.
Any new year is a great time to review your financial goals, but 2021 may be the best new year to take stock in your children and grandchildren's future. Regardless of what they want to be, you can help them reach their dreams with a 529 College Savings Plan. Happy New Year!
About the Author
Iowa State Treasurer Michael Fitzgerald is the past chair of the College Savings Plans Network and the administrator of Iowa's 529 College Savings Programs — College Savings Iowa and the IAdvisor 529 Plan, with over $5.8 billion invested and more than $3.2 billion in qualified withdrawals.