Luke Minor, Senior Associate Director, Washington's Guaranteed Education Tuition (GET)
February 20, 2018
From my early t-ball days, I dreamed of being a pro baseball player. Scratch that. I 'knew' I would one day become the greatest pro baseball player that the world had ever seen. I also assumed that along the way I would pick up a full-ride scholarship to the college of my choice. My biggest problem in all of this was trying to figure out which school I would want to grace with my talent. I certainly had no concern about how much college might cost or whether I could meet the required academic standards. As an up-and-comer in the local t-ball circuit, there was no time to bother with such pesky details.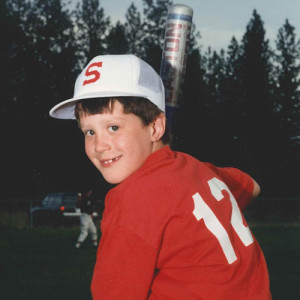 Well you will never guess what happened. I, in fact, did….not…become a pro baseball player. I made it as far as middle school, when my growth spurt robbed me of the hand-eye-coordination that would have been critical to my continued success on the field. Fortunately, while supporting me in my lofty dreams, my parents had not counted on my ticket to college coming as a condition of my athletic prowess (or lack thereof, as it turns out). Instead, they encouraged me to do well in school and stay out of trouble; they made financial sacrifices to save for my future; and they instilled in me a college-going mindset.
In my work here at GET, I'm often in the community talking with parents, grandparents, aunts, uncles, and others who provide support to students. While most families are quick to see the value in savings (whether they feel ready to make the jump or not), I regularly encounter savings skeptics who place their bets on the full-ride scholarship route. While I commend these folks for believing in their student's athletic or academic merit, the reality is that many students do not receive scholarships and most scholarships pay for only a portion of a student's college expenses.
Sallie Mae's 2017 "How America Pays for College," study finds that 49 percent of families reported receiving scholarships, and on average, scholarships cover 20 percent of a family's college expenses. While these numbers are encouraging, and have grown in recent years, they highlight that scholarships will not get most students all the way there. And what about those scholarships for t-ball stars? According to the NCAA, just two percent of high school athletes are awarded athletic scholarships, and just a fraction of those are full-rides.
So what are families of up-and-coming t-ball stars to do? A good start is acknowledging that no single funding stream is likely to cover the full cost of college. Most families rely on a combination of efforts including financial aid, scholarships, loans, current income, and savings. Families who make this realization early have more time to start saving for future expenses, can set realistic goals, and begin talking with their students about the future and get them involved in the process.
While I've begrudgingly accepted that I will never fulfill my childhood dream of becoming a pro baseball player, I am forever grateful to my parents for making financial sacrifices and fostering my academic growth. Because of their efforts, I'm now fulfilling my other dream of marketing a prepaid college tuition plan to the great residents of Washington state.
About the Author
Luke Minor is the Senior Associate Director for Washington's Guaranteed Education Tuition (GET) prepaid tuition program. Luke has been with GET since 2012 and is passionate about helping Washington families plan ahead for future college costs and promoting financial wellness. Since 1998, Washington families have opened more than 100,000 GET accounts and the program fund is now valued at over $2 billion. Already, GET students have used over $1 billion of GET benefits to help pay for school in all 50 states and 14 foreign countries.