By: Hon. Michael L. Fitzgerald
State Treasurer, State of Iowa
While it may be hard to believe that the kids wrapped up yet another year of school, summer break is a time to enjoy the warm weather and the free time with family and friends. But, the next school year will be here before you know it. That is why saving for future education and college should never take a break. Summer is the perfect time to invest more in your 529 plan or open an account for a loved one in your life.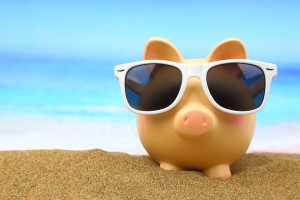 It's never too early or too late to set up a 529 plan for an important child in your life, and this summer is a great time to get a head start on investing before the busy schedule of the school year catches up to us. You can even set up an automatic investment plan through your financial institution, allowing your account to grow without taking any time away from vacations, grill-outs, ball games, and any special moments during the summer hours.
Every contribution, whether big or small, makes a difference for your 529 plan, and every investment can turn into big savings with the right amount of time. The money you invest in your 529 plan will help ease the stress and strain when you take your first distribution to pay for college and let everyone enjoy the new college adventure.
Why not get your friends and family involved in the 529 plan? Parents, grandparents, aunts and uncles, and even friends can create and invest in 529 plans for their chosen beneficiaries.
Before the summer is over, make sure to take some time and visit the College Savings Plans Network college cost calculator. Here, you'll be able to calculate how much you'll need to save, taking into account your child's current age, the type of school they might be interested in, and the inflation rate of national tuition. Using this information, you can start a plan for college savings or make adjustments to your current plan.
College education leads to brighter futures and more exciting paths, and investing for college now will help set your loved ones up for success in the years to come. Take some time to enjoy your summer vacations with your friends and family, and enjoy the time off from school. Before you know it, it'll be the summer before your loved one goes off on their first college adventure, and they'll be thanking you for helping them get there.
About the Author: Iowa State Treasurer Michael L. Fitzgerald is a Past Chair of the College Savings Plans Network and the administrator of Iowa's 529 College Savings Programs including College Savings Iowa, with more than $4.2 billion invested.