By Hon. Michael L. Fitzgerald
State Treasurer, State of Iowa
June 27, 2013
Recent Congressional action seems to indicate that the Senate will be unable to reach a compromise that will keep student loan interest rates from doubling before the July 1 deadline. "If I were a betting person, I'd say that's something we'll come back and attempt to fix retroactively," Sen. John Thune, R-S.D., told ABC News.

Without a compromise in the Senate, interest rates will double from 3.4 to 6.8% on all new Stafford student loans which would affect approximately 7 million students who receive these loans, which are offered only to the neediest of students. The Senate's Joint Economic Committee anticipates that this interest rate increase will increase the cost of a college education by $4,500 for those students who borrow the maximum amounts through the Stafford program.
With the average student loan debt burden hovering around $27,000 dollars for recent college grads and more than $1 trillion in student loan debt on the books, we can hardly afford to increase the cost of borrowing for college students. Congress should take action and help current and future college students by keeping student loan interest rates low and promoting college savings through 529plans.

Here is a chart we use on the College Savings Iowa website to show plan participants and other interested individuals the value of saving for college versus taking out student loans.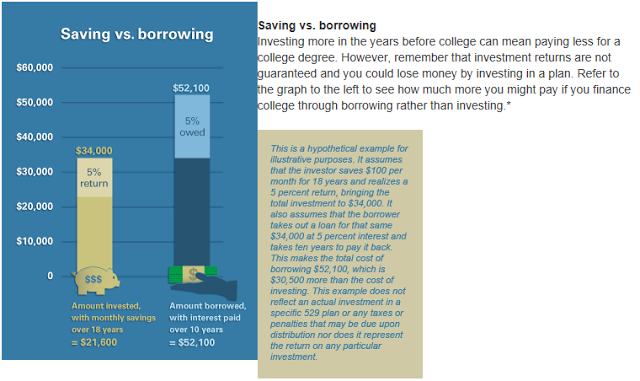 This example clearly shows the value of saving for college, but the preceding data about student loans indicates that we have a long way to go to reach our goal of limiting the need to borrow for college. As a state treasurer and 529 plan administrator I am committed to working with Congress to find ways to enhance and promote 529 plans as the best way to save for college and to help end a cycle of student loan debt that is burdening future generations with so much debt that they are finding it tough to start businesses, buy houses and live the lives they and their parents dreamed of when they started college.
---
About the Author: Iowa State Treasurer Michael L. Fitzgerald is the Chair of the College Savings Plans Network and the administrator of Iowa's 529 College Savings Programs including College Savings Iowa, with more than $3 billion invested.