By Lucas Minor, Associate Director for Marketing and Communications, Washington's Guaranteed Education Tuition (GET)
By February 13, 2017
Valentine's Day is closing in, and that means "some of us" (I promise I'm not talking about myself) are doing the last-minute dash to scoop up anything that looks pretty, smells delightful, or tastes decadent to ensure our true loves get the royal treatment. This exercise illustrates why some critics label Valentine's Day as a commercialized "Hallmark holiday," with minimal substance. While there may be some truth to this sentiment, I do think this holiday provides an opportunity to break away from the day-to-day minutiae and show love and appreciation for our partners, family, and friends.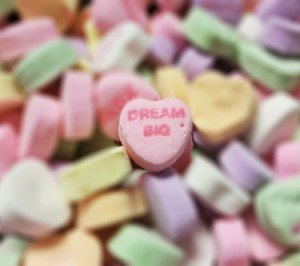 But what do Valentine's Day, love, and relationships have to do with college savings?
Here are just a few correlations that come to mind:
Preparation Makes a Difference
Whether it's dreaming up the perfect day for your special sweetheart or setting the stage for your children to pursue their future dreams, starting early and planning ahead make a world of difference. Thoughtful preparation typically yields better and more consistent results, and is a heck of a lot less stressful than falling behind and betting it all on a frantic fourth quarter comeback. In the CSPN world, we're big fans of the saying "it's never too early to start saving," and with good reason: families who start a college savings plan early have more time to save and more time for their money to work for them through interest earnings.
Don't Set it and Forget It
Valentine's Day comes once a year, but most of us realize we need to actively work on our relationships a lot more than that. The same goes for college savings. Once we open an account and drop in some funds, our job is not complete. It's important to contribute often and regularly and to get our students engaged in the process. If we share with our children what we're doing and why it's important, we can help them see the connection between our actions and their future ambitions.
Intentions are Greater than Transactions
It's also crucial to remember that when it comes to showering those special people in our lives with love or helping them prepare for the future, we can't rely on money or gifts alone. A few quotes come to mind that, I think, illustrate this point very well:
"Too much love never spoils children. Children become spoiled when we substitute presents for presence." – Dr. Anthony Witham
"Give a man a fish and you feed him for a day. Teach a man to fish and you feed him for a lifetime." – Chinese Proverb
These correlations remind us that building relationships and helping our kids pursue their future dreams takes preparation, intention, and continued effort. Of course, it's still perfectly okay to get your Valentine that adorable heart-clutching teddy bear or to drop $50 in your scholar student's college savings account. But, this Valentine's Day and beyond, let's remember to not rely on those things alone to define our commitment to our loved ones.
About the author:
Lucas Minor is the Associate Director for Marketing and Communications at Washington's Guaranteed Education Tuition (GET) prepaid tuition program. The GET program has grown from 7,900 to over 100,000 accounts, with a fund valued at $2.1 billion. Washington is unique in that the state currently only offers a prepaid tuition plan, though a 529 college savings plan is currently in the works.