Lucas Minor
GET Marketing & Communications Manager
March 16, 2015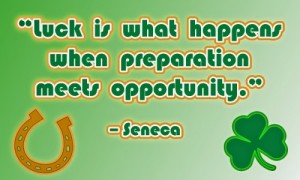 Many symbols associated with St. Patrick's Day signify luck. Shamrocks, horseshoes and the color green are often revered as tokens that promise bounties of good fortune. However, while there definitely are times where the cards seem to be more in our favor than usual, good fortune typically takes more than luck alone. In fact, the things we attribute to luck are usually direct results of the efforts we make. As Thomas Jefferson is credited with saying, "I am a great believer in luck, and I find the harder I work, the more I have of it."

This is all too true when it comes to planning for our children's future success. If we simply cross our fingers and hope our child wants to become a doctor, gets into the most prestigious medical school, and secures the scholarships to pay for it, we're setting ourselves up for disappointment. There's nothing wrong with these lofty goals – we SHOULD dream big for our kids, and inspire them to do the same. But when these dreams aren't supported with sweat equity, the chances of our desires coming to fruition can be slim. So how do we bring our hopes for our children's success from simple wishes to tangible realities?

It starts by fostering a sense of wonder and instilling a thirst for life-long learning in our kids. This starts from birth and goes all the way through their development. Children enter this world as books with blank pages, waiting to be filled with the story that will be their lives. It's both awesome and frightening to know that we play one of the most influential roles in helping them craft this story.
As the story develops, it may start feeling like a "Choose Your Own Adventure" novel, where nail-biting parents are faced with a series of choices, whose selected courses of action can yield drastically different story lines and plot twists. This analogy is also important, as it illustrates the reality that there is no parenting blueprint. Every child has unique needs, interests, emotions and strengths. The key is to think about the big picture – how can we proactively take steps today that support our children in striving towards what they want to become?
If you're struggling to answer this question, DON'T PANIC! As the young mother of a newborn shared at an event I recently attended, the biggest piece of guidance she received from parents who started the journey before her is: "You'll figure it out." This advice may not seem all that profound or reassuring, but despite her worst fears and apprehensions, the advice was spot on, and she DID figure it out. If we can accept that there is no one right way, and instead commit to a holistically-minded decision making approach and encourage our children to do the same, perhaps Lady Luck will smile upon us.
About the Author:
Lucas Minor is Marketing & Communications Manager for Washington's Guaranteed Education Tuition (GET) program. Minor manages GET's website and social media presence, and coordinates the development of print collateral, reports and articles.