By Patricia Roberts, Chair of the CSPN Corporate Affiliate Committee
November 15, 2016
With the recent arrival of my grand niece, Caroline, whose christening I will be attending later this month, I've decided to continue a tradition that I established for her now 'big sister,' Kate.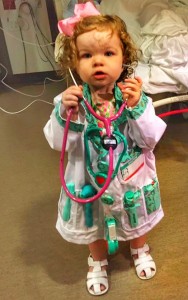 When I saw a photo of Kate dressed in a white lab coat as she visited with her mom and dad at the hospital soon after her baby sister's arrival, it reinforced for me the value of the tradition I had begun. Contributing to Kate's 529 college savings plan account, rather than giving more traditional gifts of toys or clothes, had made such good sense. Those contributions for special occasions over her first two years, and in years to come, will be helpful to her in pursuing whatever form of higher education she someday desires — whether in medicine or otherwise.
'Tis the Season
With the year-end holiday season about to kick off and the hype of Black Friday and Cyber Monday just around the corner, considering a smart and easy gift in the form of a 529 college savings plan contribution may be right for you too.
Not sure how to request or give a gift of higher education?
All you need to do is ask:
• If you are a parent who is saving or would like to begin saving for college, ask friends and family in lieu of holiday or other gifts throughout the year, to instead contribute toward your child's future.  Many 529 college savings plans accept contributions as low as $25 and these contributions can add up over time.
• If you are a friend or relative struggling with what to buy for a young person, ask if a contribution to a college savings plan would be a welcomed alternative to other gift options. Parents can let you know how to contribute to their particular 529 plan account(s).
And now there are even gift cards, not affiliated with or limited to deposit into a particular 529 program that can be purchased in certain retail chains around the country.
Simplify your list making this holiday season by including a gift that involves no sizes to guess, no duplicates to fear and no returns to make. I suspect, like Kate's parents, all involved will appreciate a forward-looking gift which brings with it endless possibilities and which is both easy and rewarding to give and receive.
About the Author:
Patricia Roberts has been a part of the 529 industry for over 17 years, as an attorney, product manager, state relationship manager and as a mom, saving for college for her son, Benjamin. She currently serves as chair of the CSPN Corporate Affiliate Committee.