By Troy Montigney, Vice President of Relationship Management, Ascensus Government Savings
November 3, 2020
My family is living proof of the multigenerational potential of 529 college savings plans. As more and more plans around the country celebrate 25th and 30th anniversaries, I often find myself reflecting on the transformative nature of 529s This is something still playing out in my life today.
My grandparents began setting aside a bit of money for me in a college fund when I was a child. Later, my parents used these funds and some money of their own to start a 529 plan. When I reflect upon all the sacrifices they made for me growing up, this is easily the most impactful. Through a combination of their 529 investing and merit aid from my school, I was fortunate to graduate debt-free. This blessing continues to pay off a decade later (more on that in a second).
Looking back at that time, I didn't necessarily know there was a 529 plan working for me, but I knew there was something. The promise of my college savings made higher education feel not only attainable, but inevitable – a powerful motivator at a young age.
Years later as a young professional, I was offered an opportunity to run my home state's 529 program, eventually helping over 200,000 people save nearly $5 billion for education. I heard countless bits of hopeful testimony from our savers.
Parents, grandparents, and others repeatedly described the same sense of duty to their loved ones. They were realistic about the cost of post-high school education, but emboldened by the idea that every dollar saved now could be one not borrowed and paid back with interest later.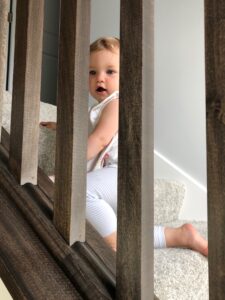 Now, I work from my home helping other states grow participation in their 529 plans, while saving for my toddler in her own account. Before record-low mortgage interest rates inspired a relative surge in millennial home-buying, America's collective $1.6 trillion student loan debt was often cited as the primary headwind blunting my generation's home ownership opportunity. I am eternally grateful for the advantages a debt-free degree conferred upon me in this regard — it's not a stretch to say I owe my current "office" to decisions my parents and grandparents made decades ago.
Then there's my little "co-worker." Being home for most of 2020 as she's learned to walk, talk, and assert herself has been (mostly!) a joy, but also makes for plenty of time to think about her future. Since fitting regular contributions to her 529 into our plan, that future, however open-ended, has come into clear view. In a day and age when so many things about life feel beyond my control, it can be reassuring to focus on one that's not: her education. It's the surest way to equip a loved one for an uncertain world.
From having a 529 plan of my own, to funding one for my daughter, my life has truly come full circle.
So when you open a 529 for a child now, remember you're not just making a commitment to his or her immediate educational future — you're potentially setting in motion a positive cycle that will reverberate for his or her children, and their children as well.
About the author:
Troy Montigney is a Vice President of Relationship Management for Ascensus Government Savings. The 529 industry leader by almost any metric, Ascensus services 47 plans across 27 states and the District of Columbia, with over $160 million in assets in over 6 million accounts. Previously, Troy served as Executive Director of Indiana's CollegeChoice 529 Plans. He lives in the Indianapolis suburbs with his wife, Sara, and daughter, Sophie. They will welcome another daughter (and 529 beneficiary) in November 2020.