By Young Boozer, Alabama State Treasurer & CSPN Chair
September 20, 2016
Today, the College Savings Plans Network published its 2016 Mid-Year Report. Results show a record level of total college savings investments, number of accounts, and average account size in the first half of this year. In just six months, total investments jumped from $253 billion to $266 billion.
Highlights of the 529 Mid-Year Report include:
• In the first six months of 2016, total assets in 529 plans grew by $13 billion dollars.
• The total number of 529 accounts continued to increase during the first half of 2016, from 12.5 million to 12.7 million during that time period.
• The average 529 account balance continued to grow, reaching an all-time high of $20,975 as of June 30, 2016, a 3.1% increase over the past six months.
• Including growth from contributions and investment returns, total assets in 529 plans grew by 5.1% since December 31, 2015.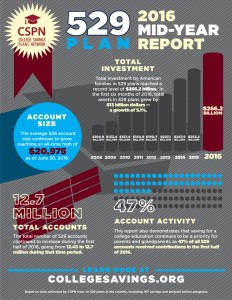 This report also demonstrates that saving for a college education continues to be a priority for parents and grandparents as 47% of all 529 accounts received contributions in the first half of 2016.
This positive news comes on the heels of 529 college savings plans' 20-year anniversary. It was 1996 when legislation authorizing these plans passed, and while the economy has faced incredible challenges since then, Americans have shown their resolve and commitment to education so that college is not just a dream, but a financial reality for their children.
Read the full report here and keep on saving!
About the Author:
A native of Alabama, Young Boozer's four-decade career in banking, finance and investments has taken him from Citibank in New York and Crocker National Bank in Los Angeles, to Coral Petroleum in Houston and Colonial Bank in Montgomery. Treasurer Boozer also served as Deputy State Finance Director for Governor Bob Riley after his retirement in 2007. During his tenure in the Alabama Department of Finance, he played a key role in saving millions of taxpayer dollars through the restructuring of state bond debt and derivatives. Boozer left the Riley Administration in early 2010 to run for State Treasurer in his first race for elected office.