By Betty Lochner, Chair,
College Savings Plans Network
March 11, 2014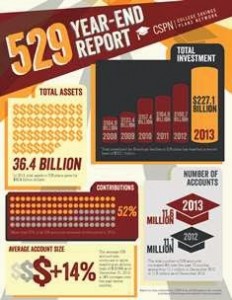 Today, the College Savings Plans Network published its 2013 Year-End 529 Report, which features aggregated data from the 103 savings and prepaid tuition plans across the nation. The report includes evaluated assets held in 529 accounts, the average size of 529 accounts, and the percent of contributions and distributions in 529 accounts for the time period of Jan. 1, 2013 through Dec. 31, 2013.
We're happy to report sustained and continued growth of plans nationwide. The following are the highlights from the report:
Total Investment: Total investment by American families in 529 plans has reached a record level of $227.07 billion.
Total Assets: In 2013, total assets in 529 plans grew by $36.35 billion dollars.
Number of Accounts: The total number of 529 accounts increased 4.4% over the past 12 months, going from 11.1 million in December 2012 to 11.59 million as of December 2013.
Average Account Size: The average 529 account size continues to grow, reaching an all-time high of $19,584 as of Dec. 31, 2013. This represents a 14% increase over the past 12 months.
Contributions: More than 52% of all 529 accounts received contributions in 2013.
CSPN will continue to work to ensure all families are able to reap the economic and social benefits of higher education, regardless of financial constraints, by offering tools and resources to help families make wise choices about their college savings.
About the author:
Betty Lochner is the director of Washington's Guaranteed Education Tuition (GET) program. Under her leadership, the GET program has grown from 7,900 to over 153,000 accounts, with a fund valued at over $2.55 billion. Washington is unique in that their only 529 plan offered is a prepaid tuition plan. Lochner currently serves as Chair of the College Savings Plans Network (CSPN).