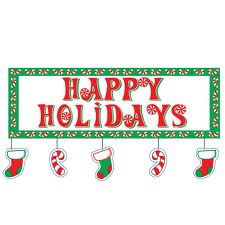 December 23, 2013
Well it's a condensed week for many of us as we enter the holiday homestretch. As we wrap up the year, we'd like to wish you and yours a joyous remainder of the holiday season and a happy and healthy New Year! We'd also like to challenge you to take a moment, hit pause and consider the following:

Spend Quality Time Together
The holidays are a special opportunity to enjoy the company of family and friends. However, many of us get caught up in the "business-end" of things (buy the gifts, send the cards, decorate the house, make the food, etc.) and find ourselves a bit disconnected from the true spirit of the season. It can be a challenge to take the necessary time for ourselves, especially when we want everything to turn out just right. Just keep in mind that when this year is in the books, your loved ones will remember the time you shared and how you made them feel, not what you got them.

Take the Chance to Start Fresh
Whether it's been a successful or stressful year, the holidays are a great time to reflect, recharge and refocus. When looking back at the year, be inspired by what went well, be motivated to improve on what could have gone better, and do your best to let go of the things that are out of your control. If you've had a particularly difficult year, let your loved ones help lift you up, dust you off, and get you ready for great things ahead.
Plan Ahead for the Future
Again, use your time with family and friends to share what you're looking forward in the years to come. Ask your children or grandchildren what their dreams and aspirations are, and share yours with them. Then make a pledge to support those dreams. Whether your child aspires to be a teacher, a doctor or an athlete, remember that education is the foundation for building those dreams. If you haven't made the leap yet, consider the holidays a perfect opportunity to begin putting away for college. No matter a child's age, it's never too early to start. The gift of education is a gift that will truly inspire that child to succeed and is sure to make the holidays a bit brighter.
However you celebrate this time of year, we wish you well and encourage you to set aside some time for the things that matter most!
About the Author:
CSPN is a national non-profit association and the leading objective source of information about Section 529 College Savings Plans and Prepaid Tuition Plans—popular, convenient and tax-advantaged ways to save for college. An affiliate of the National Association of State Treasurers (NAST), CSPN brings together administrators of 529 savings and prepaid plans from across the country, as well as their private sector partners, to offer convenient tools and objective, unbiased information to help families make informed decisions about saving for college.