By:  Betty Lochner, Director of Washington's Guaranteed Education Tuition (GET) program & CSPN Chair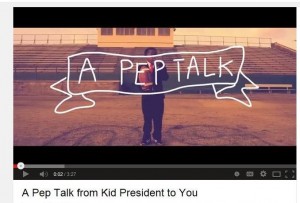 You may or may not be aware of a young man named Robby, better known as Kid President, who has become an Internet sensation for his inspiring videos about how we can make the world a better place.  Robby reminds us of the simple truth that kids want nothing more than to leave the world better than they found it. In Robby's most famous video titled "Pep Talk" he says, "If there are two paths, I want to be on the one that leads to awesome."

I think all of us at CSPN can agree that we want every kid to be on the path to awesome and that one of the most important stops along the way is college. Starting today we kickoff "America Saves Week" and CSPN is proud to be a partnering organization in this nationwide movement to get families to assess their own savings habits. This week is a great opportunity to reflect on your own spending behaviors and your plan to build wealth for important life stages like your child's college education.
I think we can all agree that education is what allows us to grow personally and professionally; it encourages us to take an active role in our community; it provides insight into making smart decisions as consumers; and it is a springboard in creating numerous career opportunities. Education excites, inspires and allows us to be creative just like Robby.
In today's world, education and technology go hand-in-hand: it's used as a teaching platform, an outreach tool and a communication and information sharing device. We know that young families are turning to social media and expert websites for insight and expertise about raising their kids. Technology is building new communities and is providing organizations like CSPN with a unique opportunity to connect with a large number of people in a personalized format.

This year, one of my top goals as chair of CSPN is to further embrace the latest technology tools so that we can not only increase engagement with our own membership, but also connect with young families who are searching for ways to save for their children's education. To that end, we have plans to redesign and upgrade our website to make it more user-friendly so that we can create and build meaningful relationships with our constituents. I believe technology is something that can bring us all together and if used appropriately can transform our lives in so many positive ways.

Let's not forget the big picture. We have one of the most important jobs in our society and that is ensuring the next generation has greater access to higher education. Kids today are going to face an even more complex world when they become adults and they are going to need every opportunity to learn, grow and succeed.
In the meantime, I think we can learn a lot from kids, especially kids like Robby who reminds us, "This is life people… you got air coming through your nose… you got a heartbeat… it's time to do something. What will you create that will make the world more awesome…nothing if you're just sitting there. You were made to be awesome, so let's get out there give the world a reason to dance!" I don't know about you, but this quote gets me fired up and excited to be a positive change agent in our world. I would encourage you to watch Kid President's entire Pep Talk on Youtube and also check out all the useful savings tools at www.americasavesweek.org. Both are worth a few minutes of your time.
About the Author:
Betty Lochner is the Director of Washington's Guaranteed Education Tuition (GET) program. Under her leadership, the GET program has grown from 7,900 to over 153,000 accounts, with a fund valued at over $2.55 billion. Washington is unique in that their only 529 plan offered is a prepaid tuition plan. Lochner currently serves as Chair of the College Savings Plans Network (CSPN).