By Cassandra Sherrill
Marketing Coordinator, Georgia's Path2College 529 Plan
September 2, 2014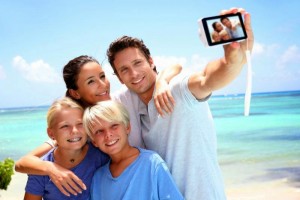 Time to kick-off your shoes, pop open a cool drink and enjoy the last days of that summer fun in the sun! That's right – it is Labor Day! This landmark weekend not only marks back-to-school season but also the beginning of College Savings Month.
As your family kicks the last bits of sand off their shoes and prepares for the excitement of new classes and friends this school year, consider your loved ones' first day of college too! In the blink of an eye, that annual Labor Day trip to the beach will be his or her first day in their new dorm room. And while your loved one is in the classroom learning, you can be too!
Across the nation, College Savings Plans will host activities and events in September, showcasing the importance of saving for college. Take a moment each week in September to learn a new college fact about the cost of attendance for their "dream" school, the difference between scholarships and grants, and most importantly how to start saving through a 529 College Savings Plan!
It is easy to save and the pennies add up! Challenge yourself this month. Skip the local coffee shop in the morning and pack your lunch instead of eating out.  Assuming 21 work days, a $3.00 coffee and a $7.50 lunch, you could save over $200!  Placing those dollars saved into a 529 college savings account will get you started on your savings goals!  A penny saved today- is a dollar less that your child may have to borrow tomorrow.
Contact your local College Savings Plan for more information and events this month! It's back-to-school time for them and College Saving Month for you!
About the Author:
Cassandra Sherrill is the Marketing Coordinator for the Georgia's Path2College 529 Plan. She has been with the plan for two years and has played a pivotal role in marketing and grassroots initiatives.