By Francesca Nelson, Public Affairs Officer, Maryland 529
August 11, 2020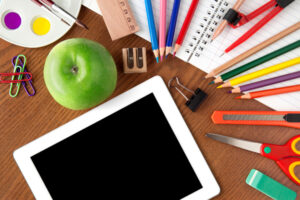 Summer is almost over, which means it's time for back-to-school shopping. But with the current health pandemic, back-to-school shopping may look a little different this year. Some families may be investing in new electronics as they continue to adapt to virtual learning; others may be stocking up on masks and hand sanitizer as they prep for schools to reopen.
This pandemic has proven that life is unpredictable. While it's hard to determine what the new school year will bring, it shouldn't stop you from creating or continuing your college saving goals. Families can still rely on a state-sponsored 529 plan to help save for their child's future education and invest in an item that will go beyond the school year.
529 plans can be used toward community colleges and four-year universities, as well as trade or technical schools, and certified apprenticeship programs. This provides lots of flexibility. 529 plans are also affordable — most states' 529 plans allow you to start saving with as little as $25. In addition, some states offer a prepaid plan option, which allows you to prepay college tuition and provides a sense of security.
There are also unique tax benefits associated with 529 plans including tax-deferred growth, and in some states, an income tax deduction. And remember, family members and friends can be a part of your saving goals by making a gift contribution to an existing 529 account or opening a 529 account for your child. Most 529 plans offer an online gifting portal or gift contribution slips designed for special occasions like birthdays, graduations, and holidays.
So as we move forward to the start of a new school year, make sure starting or contributing to a 529 plan is on your back to school list.
About the author:
Francesca Nelson is the Public Affairs Officer for Maryland 529, an independent, nonprofit State agency that administers the Maryland Senator Edward J. Kasemeyer Prepaid College Trust, and the Maryland Senator Edward J. Kasemeyer College Investment Plan. Together, the plans have approximately 245,000 beneficiaries with investments of more than $7.4 billion as of June 30, 2020.