By Mary Anne Busse
Managing Director, Great Disclosure LLC
December 7, 2012
During this season of spend, spend, spend, why don't you focus on a crazy alternative – save, save, save? I know this is advice I could benefit from. Sometimes the focus on my daughter this time of year turns to obsession and I feel like Arnold Schwarzenegger in Jingle All the Way, desperate to get this year's hottest toy. My 4 year old changes her letter to Santa every day. So, why do I race from store to store to get that thing she says she desperately needs when she'll forget about it tomorrow?

In our blog post on September 30, we reported on our 2012 Mid-Year 529 Report In that report we noted that as of June 30, 2012, assets in 529 plans across the country exceeded $179 billion, an 8.6% increase during the first half of 2012. Some of that increase, thankfully, represents market return, but some of that increase represents new money contributed to 529 plans.

Those are encouraging numbers! Americans are still eager to figure out the best way to pay for college and continue to turn to tax advantaged 529 plans as a primary source of savings.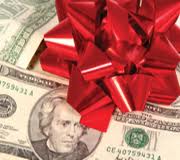 As I think about these statistics and my daughter's 529 plan account, I really wish I had a lot more invested by now and a lot less of this year's hottest toys! I will, of course, continue to make regular contributions, but one of my new goals is to turn my family and friends into a pool of additional 529 plan contributors. This year, instead of expensive gifts I'm going to suggest they contribute to my daughter's 529 plan account or open an account of their own to take advantage of the tax benefits. My 529 plan makes it easy to contribute. I just follow the online instructions, share the information with my family and friends and they can do the rest.
Why am I thinking long-term instead of in the moment? Maybe it's because I come from a family full of educated people, maybe it's because of my own large student debt burden (which is now, thankfully, paid in full), or maybe it's both. Anyway you slice it, the best gift I can give my daughter this December is the gift of education. Now if I can just get her to add that to her letter to Santa, we'd be all set!
To learn more about 529 plans and their features, go to www.CollegeSavings.org .
---
About the Author:
Mary Anne Busse is the Managing Director of Great Disclosure LLC, a full service consulting firm dedicated to the 529 Plan marketplace.

 

Great Disclosure represents 529 Plan administrators on all aspects of 529 Plan administration, marketing, and operations.