As Easy as 5-2-9
By Patricia Roberts, CSPN Corporate Affiliate Chair
November 13, 2017
With Thanksgiving just around the corner and Black Friday and Cyber Monday immediately following, gift giving is top of mind for many. This is an ideal time to talk turkey with friends and family about sensible gifts for the young persons in your life.
It's no secret that well-intentioned loved ones spend considerable time, money and effort searching for "just the right" gift. It's also no secret that many parents find their homes cluttered with gifts that their children far too quickly outgrow in size and interest.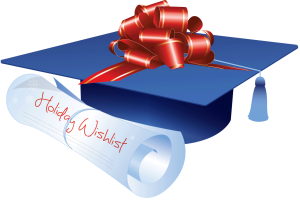 So, whether you're creating a holiday wish list for others to use for your kids or putting together your own shopping list for the young ones in your life, consider including a smart alternative to complement the types of gifts that are typically selected.
A Gift towards College
Many 529 college savings plans have simple-to-use tools in place that make it easy for account owners to invite friends and family to contribute to already-established accounts. A growing number of these plans enable gift givers to make a contribution to an account online and many give the option to send or print a festive gift acknowledgment with a personalized message. Beyond this, there are even college savings gift cards that can be purchased at certain retailers and deposited into any existing or newly-established 529 plan account.
Why put college on your holiday list?
1. Friends and family will be thankful for discovering such a smart gift that's so easy to give.
At a time when concerns about the cost of college and the resulting burden of student loan debt on graduates and their families are widely known, giving the gift of education can help lighten the load.
2. Gift recipients will benefit in more ways than one.
In addition to helping with college expenses down the road, just knowing that others are investing in them and believe in their potential, can provide children with added confidence and motivation.
3. It's a valuable discussion topic for the entire family.
The receipt of gifts earmarked for college provides a great opportunity to begin an important discussion, even with young children, about future goals and how to go about saving for them.
A Gift for All Ages
The gift of education is a fitting one for tots to teens and as an added benefit, has the potential to stand the test of time. Now that's worth celebrating this holiday season and well beyond!
About the Author:
Patricia Roberts has been a part of the 529 industry for over 17 years, serving as an attorney, product manager, state relationship manager, and currently, as chair of the CSPN Corporate Affiliate Committee.