By Chelsea Wunnicke, Wisconsin College Savings Program
August 23, 2023
Raising preschool children is not easy. While they provide sweet smiles, joyful laughter, and hugs, they also come with strong emotions and challenging behaviors as they figure out their world. As a parent of preschoolers myself, I've noticed that parents and caregivers of preschool children do best when they approach these challenges with a calm mindset, adaptability, and a little help from family and friends.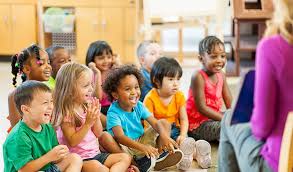 These same strategies can help parents of preschoolers start, and stick with, a college savings plan for their young children. As my daughter heads to kindergarten this fall, the preschool years will be behind us, but the college savings plan I started during preschool will continue to grow with her!
A Calm Mindset
Preschoolers are learning to express their emotions, thoughts, and preferences for everything from foods to friends. As a parent, it takes a lot of patience to remain calm, even when the child is not. This calm mindset can also help with starting a college savings plan. Many people feel anxious about the rising costs of college and the potential for student loan debt for their children. The challenge of paying for higher education in the future can seem overwhelming. A calm mindset reminds you to, "start small, do what you can, and don't give up." A calm look at the family's finances can see if there are any areas of extra funds that can be put in a child's 529 College Savings Plan.
Setting up a monthly automatic deposit or payroll deduction can keep you calm by automating your savings and taking another "to do" off your list. If the money isn't available monthly, there may be annual chances to put savings aside, such as at holidays or tax refund season. The most important thing is to get started, even with a small amount. This positive action today can help keep you calm in the future, as preschoolers embark on their educational journeys toward eventual high school graduation and post-secondary education or career training.
Adaptability
When parenting preschoolers, it is normal to feel like there is never enough time in the day. Even as they learn to do more on their own, preschoolers need their caregivers for everyday tasks like dressing, meals, and clean-up. Parents adapt their expectations as children get older, and a 529 College Savings Plan can do the same. Adaptability is one of the reasons that enrollment year investment portfolios or age-based portfolios are among the most popular investments options in 529 College Savings Plans. Think of these investment options like the target retirement date fund you might have selected for your 401K plan, except in this case, you target the year you expect to use your 529 savings for post-secondary education expenses.
By choosing an enrollment year investment portfolio for your child's 529 College Savings Plan, you know that asset allocations adjust automatically over the years to become more conservative as your student's enrollment year approaches. Example: a child starting kindergarten in 2023 would be expected to graduate high school in 2036, so a family could choose to invest in a 2036/2037 enrollment year portfolio. For an age-based investment portfolio, you simply choose the option that includes your student's current age.
529 College Savings Plans are adaptable in other ways, too. As your child develops different interests throughout the years, know that the funds saved may be used for a variety of different post-secondary education and training options, including accredited degree programs at 2-year and 4-year colleges, technical and community colleges, trade schools, and apprenticeship programs registered with the US Department of Labor. If your child does not need the funds for post-secondary education, you can change the beneficiary from one child to another beneficiary in the family.
Adaptability helps parents and caregivers adjust to their student's needs and is a great feature to have in a 529 College Savings Plan!
A Little Help from Family and Friends
Any parent of a preschooler knows: you can't do it alone. Children and parents both benefit from the help of extended family and friends to provide care, enrichment, and needed breaks. If your child is lucky enough to have a network of caring adults, one way they can help is by funding a 529 College Savings Plan while your child is in preschool.
The earlier savings begin, the longer time horizon those funds have for additional contributions, and to potentially benefit from investment growth. Birthdays, holidays, or other milestones can be more meaningful with gifts to a 529 College Savings Plan. Family and friends can contribute to an established 529 College Savings Plan for a child, or they can start their own and name your child as the beneficiary. In either case, your child benefits from knowing that their family and friends believe in their future and are setting aside money to make sure that post-secondary education is possible. Plus, many states offer a state income tax deduction on contributions made into a 529 plan!
While preschool years are full of challenges as children learn and grow each day, parents and caregivers can work through the ups-and-downs with a calm mindset, adaptability, and a little help from family and friends. These same skills that help families navigate everyday difficulties can also help you successfully save for a child's future education expenses with a 529 College Savings Plan starting in preschool.
The world is full of possibilities for your preschooler's future, and a little savings in a 529 College Savings Plan now can help them realize their dreams.
About the author:
Chelsea Wunnicke serves as a Wisconsin College Savings Program Finance Officer with the Wisconsin Department of Financial Institutions. With a background in providing financial education across the lifespan, Chelsea lives with her family in rural Richland County, Wisconsin, and has a special interest in helping more Wisconsin communities and youth benefit from early saving for higher education.