By Ashley Murdie, Former Financial Literacy Director, Kansas State Treasurer's Office
August 9, 2016
Congratulations, freshman! You've successfully crossed the milestone of graduating high school and are now moving full speed into your first year of college. While it may feel like drinking out of a firehose at times during your first few weeks, you'll regain your footing in no time. Before you know it, four years will have come and gone and you'll be crossing that stage yet again. Until then, here are a few tips to help you along the way.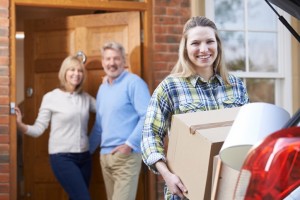 1. Avoid the goose egg.
While online banking offers many conveniences, it also has a tendency of opening the door to bad spending habits. Rather than setting a budget and tracking expenses the 'old fashioned way' via checkbook, we can now check our balance anytime, anywhere. That can make split decision purchases even more tempting and lead to the habit of living paycheck-to-paycheck. Rather than letting your account reach 'goose egg' status, track your expenses and work to maintain an emergency fund. Flat tires and medical bills never come on payday.
2. Become your own barista. 
Rather than dropping serious cash on fancy coffees, learn to make your own. A latte at a popular coffee chain generally runs $6. At three times a week, that's roughly $900 annually. Yikes! Quite depressing when viewed that way. Instead, research and purchase a reasonably-priced espresso machine, begin experimenting with new latte recipes, and of course, practice making amazing latte art.
3. Protect and build your credit.
Let's be real. Building credit is the furthest thing from your mind amidst the chaos of getting settled into your freshman year. And why should it be? It's not like you'll need it anytime soon right? WRONG. Your credit score can start to factor in your life a lot sooner than you may think. Your ability to rent an apartment, secure your first big job out of college or purchase a new car can all hang on your credit score. Fortunately, you can check your credit report for FREE once a year at www.annualcreditreport.com.
Your credit score may be practically non-existent as a freshman. You can begin establishing credit by opening and using a credit card responsibly. Be sure to do your research and select the best option for you. Compare interest rates, annual fees, credit limits and billing policies. Just keep in mind that when it comes to credit cards, fewer is better and you should only spend what you can pay at the end of each month. Opening too many cards at once will cause your score to sink, while running a high balance can lead to tons of added interest and potential late fees.
That's not all! Check back next Monday for tips 4 through 7.
About the author:
Ashley Murdie is the former Communications and Financial Literacy Director for the Kansas State Treasurer's Office, which administers the Learning Quest 529 Education Savings Program. Since beginning 17 years ago, the Learning Quest 529 program has grown to include more than 193,000 accounts and over $4.86 billion in assets.  Visit LearningQuest.com or call 1-800-579-2203 today to learn more.