By LaKesha Page, Director of College Savings for the State of Tennessee Treasury Department
January 16, 2017
I believe Dr. Martin Luther King, Jr. to be the manifestation of love and an excellent example of how one can use faith, character, fortitude, service and intelligence to effect social change. Dr. King said, "The function of education is to teach one to think intensively and to think critically. Intelligence plus character – that is the goal of true education." The Martin Luther King, Jr. Holiday is a day for all of us to honor his legacy, and generations later, allows us to live out his dream.
The privilege to celebrate this federal holiday is a result of the culmination of more than eighteen years of work. Years before President Ronald Reagan signed the King Holiday bill establishing the third Monday of every January as the Martin Luther King, Jr. National Holiday in 1983, Coretta Scott King and many others worked tirelessly to commemorate his life.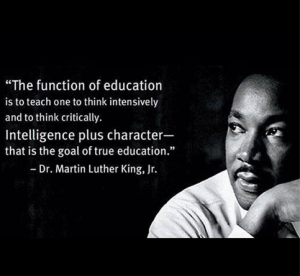 The first federal legislation was introduced just four days after Dr. King's assassination in 1968. In the same year The King Center was founded as a living memorial of Dr. King and a community and resource destination. The King Center sponsored the first celebration on January 15, 1969, serving as an example for future celebrations. Throughout the next eighteen years, there was a ground swell of initiatives nationwide to commemorate Dr. King's legacy, including legislation and holidays at the state level. Although setbacks occurred, Mrs. King and supporters were determined to preserve Martin Luther King's legacy.  In 1982, petitions signed by more than six million supporters of creating the holiday were presented to the Speaker of the House of Representatives. Finally, the legislation passed in the House and the US Senate, and was signed by President Regan in 1983.The first federal holiday was celebrated on January 20, 1986- eighteen years after the original bill was introduced in 1968.
I am so grateful for the efforts of those dedicated Americans, who not only understood that Dr. King lived a life worth celebrating, but who also understood that generations to follow would benefit from knowing his legacy. We still reap the harvest of Dr. King's work and can learn from the examples of his supporters.
The attributes exhibited by those dedicated people are ones that could be applied to your college savings journey. It takes years to save for college, and sometimes there are setbacks. But the planning, dedication, and perseverance that we are reminded of on this holiday can help you reach your college savings goals and ensure your children can achieve their dreams.
About the author:
LaKesha Page is the Director of College Savings for the State of Tennessee Treasury Department. Under her leadership, Tennessee launched the TNStars® College Savings 529 Program in 2012. Nationally ranked for investment performance, TNStars is designed to give Tennessee families high quality investment options at a low cost to help them put aside money for higher education expenses.