By Patricia Roberts, Chief Operating Officer, Gift of College, Inc.
May 6, 2021
This past year was like no other in recent history and among those who bore the greatest brunt of the pandemic were moms.
Whether they were on the front line as healthcare or other essential workers, juggling a wide range of work-from-home arrangements, or something in between, the already very heavy workload of moms got a whole lot heavier with the addition of at-home schooling. The increased and often conflicting demands of parenting, running a household, keeping a job, and overseeing at-home learning created incredible complexity for moms who were already stretched thin.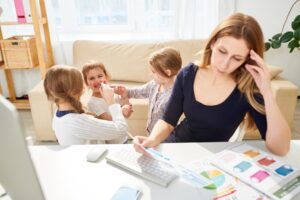 Moms are owed a standing ovation for what they held together and managed to accomplish these past 14 months and they are owed many thanks for all they continue to do. They are a powerful combination of a family's commander-in-chief, chief operating officer, chief education officer, head of planning and analysis, chief medical officer, and chief financial officer. Further, as the heart of the family, the glue that keeps it all together, the preferred shoulder to cry on, lap to sit on and ear to turn to, they are a family's chief caregiver. Beyond this, as devoted daughters, grand-daughters, sisters, nieces, neighbors and friends, the caregiving they provide frequently extends far beyond their immediate household as they often embrace the additional and critical responsibility of coordinating care for or personally caring for loved ones who live elsewhere while still keeping their own home in order.
And while it's wonderful to acknowledge, thank and celebrate moms on Mother's Day, it's more important than ever to identify ways to support them throughout the year as well. Here are a few ways that employers, hiring managers, friends and extended family can support moms on an on-going basis.
Current Employers
During this period of social distancing, employers have been given a sneak peek via Zoom meetings or otherwise into their employees' home environments and have undoubtedly gotten a sense of how very much is on their plates. This new-found insight into employees' lives is an opportunity for employers to validate the strain employees have been under and to demonstrate empathy. In addition to increased flexibility in terms of work hours and enhancement or inclusion of childcare (and to the extent possible, eldercare) benefits for employees, a benefit that would be extremely valuable to many employees, including moms, is support with saving for higher education expenses.
It's easy for employers to introduce 529 plans in the workplace and also easy to match employee contributions or to make a one-time contribution as an incentive to help employees get started. With many workers unfamiliar with 529 plans as a valuable way to save for higher education costs and with research from ISS Market Intelligence showing that those who contribute to 529 plans through payroll deduction at work (versus automated savings from a bank account) contribute on average 75% more, the time is right to introduce 529 plans at work to take a bit of financial stress off of employees (commonly moms) who are often on point for academic aspects of their children's lives and for family financial planning.
Introducing 529 college savings plans benefits can not only help employees who have children or grandchildren, but can help those who may want to further their own education. Additionally, introducing 529 plans at work can be particularly helpful to women who bear a more significant amount of student loan debt and who may be struggling to repay their own educational costs while trying to save to further their own education or a child's. And the introduction of 529 ABLE plans at work can take employer support a bit further. These plans can also be introduced and contributed to through the workplace and can be tremendously valuable to those who are disabled or who, like me, have a loved one who is disabled.
Offering 529 college savings and ABLE plans through the workplace can make a meaningful difference in recruiting, engagement and retention of not only of moms, but all employees.
Hiring Managers
Hiring managers have an opportunity to reframe how they think about candidates with resume gaps – particularly when the gaps are due to caregiving. Caregivers can bring incredible value to the workplace thanks to the resourcefulness, resilience, multi-tasking and collaboration skills that they have in their toolbelt.
LinkedIn, for instance, recently announced that it will be introducing several new job titles to allow full-time parents and other caregivers to provide more accurate descriptions of their time away from the paid workforce. This is an important step in support of caregivers, often moms, who are attempting to return to the workplace after time away.
Friends and Extended Family
Friends and extended family who can't be there in person to assist can come up with creative ways to lend a hand to busy moms by way of Zoom or FaceTime. Thanks to modern technology, friends and extended family can play games or read stories to children, or even help with homework, to give a mom a break. They can also send a gift card that can be used by moms to order home-delivered meals.
And when conditions are such that they can again visit, friends and extended family can drop off a meal or offer to lend an in-person hand with the children. That way, mom can catch her breath and take a bit of well-deserved time for self-care.
Beyond this, anyone can surprise a mom they care about with a contribution toward her child's college savings account when a holiday or child's birthday is approaching. Moms' top priorities are their children and giving a gift to help lighten the load of saving for their future can be extremely helpful and much appreciated. Plus, by making a financial contribution toward education versus buying toys, games and clothing that may be quickly outgrown in size or interest, less clutter will be created for moms to have to address.
Moms are on the 24/7 shift. Let's do all we can to honor and support them on Mother's Day and throughout the year as well.
About the Author
Patricia Roberts is the Chief Operating Officer of Gift of College, Inc.  Prior to this, she held key legal, product and 529 program management roles at major financial services firms, and designed and launched several first-of-their-kind philanthropic programs through which families received seed money for college savings accounts along with valuable financial education and incentives to help them save on their own. She is the author of Route 529: A Parent's Guide to Saving for College and Career Training with 529 Plans.