Lucas Minor
GET Marketing & Communications Manager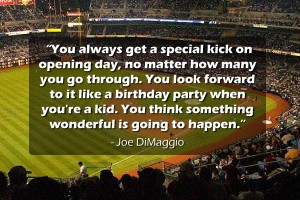 May 4, 2015
I always welcome the start of baseball season, as it's a great reminder that good things are in store for the months ahead. It's a chance for renewed optimism as we cheer on the home team (Go Mariners!) and hope that maybe 'this' will finally be their year. And accordingly, Mother Nature is showing signs of bright life: the sun starts showing itself again, flowers are in bloom and everything is turning green again! But what do baseball and the change in seasons have to do with college savings?
Just as the start of the season involves a steep learning curve for a team, getting your college savings started is not always easy right out of the gate. You'll experience some growing pains and it will take time to get a consistent game plan established. Despite these early road bumps, remember that this time of year is also the perfect opportunity for a fresh start – a chance to try out a new approach. If you stay committed and keep working hard, saving will continue to come more naturally, and your college savings plan will begin to blossom.


A hang up for many parents looking to start their college planning is where to start. When I'm out in the community sharing information about our program, I often hear "What should we be doing?" "How much do we need to be saving?" "Tell me what I need to do!" This line of questioning is understandable, as it can feel overwhelming to be looking ahead when you're busy trying to raise kids and triage their day-to-day needs. While I'm able to provide these harried parents with resources and tools, the reality is that there is no single magic formula that works for everyone. Every family's situation is unique and their goals for their children are equally varied. But the good news is that often parents just need to have these early conversations, and once in the right mindset, they're ready to find their own way.
Although there is no one right way, there are some best practices that families can look to so they can ensure long-term savings success. First, start as early as possible when kids are still young so there is more time to add to your savings and watch them grow. It's easy to compare different options on the CSPN website to see which plan or mix of plans will work best for your family. Just as importantly, don't set it and forget it – keep adding as your kids grow and get family and friends involved. Finally, let your kids know what you're doing to plan for their future and reinforce that college will be part of their future.
However you choose to save for college, remember that practice and routine are the keys to success. In the words of legendary Dodgers team manager, Tommy Lasorda: "There are three types of baseball players: those who make it happen, those who watch it happen, and those who wonder what happens."
About the Author:
Lucas Minor is Marketing & Communications Manager for Washington's Guaranteed Education Tuition (GET) program. Minor manages GET's website and social media presence, and coordinates the development of print collateral, reports and articles.