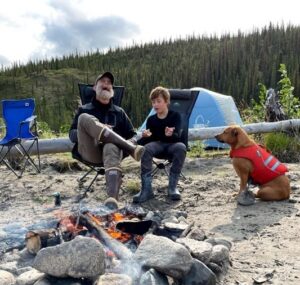 Summers in Alaska can fly by. However, for a few glorious months, the days are filled with light and opportunities for adventure. The fields are lush with green, the woods and bogs are perfect for long hikes and exploration, and the rivers are ready for casual or high-tempo floats.
Our family holds on to summer for as long as we can. We go camping, we enjoy the cool river floats through town, and experience Alaska's harvest season. Our goal in spending time with our children this way is to instill a sense of adventure and to share experiences that will help us all unplug, create memories, and focus on communicating the old-fashioned way.
I heard a rumor that summer is almost over. I'm in denial about it and you might be too. Even though my children are back in school, my garden is ready to harvest, and despite the fact that it was 40 degrees this morning here in Alaska, summer's not done yet! Let's make the most of our remaining days of summer. And while we're at it, let's talk about making the most of the time left before our beneficiary has to take their first distribution!
Here are some thoughts on what you can do to get the most out of the remaining days of summer:
Invest in free time and free play. It adds up and can go a long way toward helping your child become a well-rounded individual.
Read together.
Pay attention to your child's interests. Nurture their passions and help spark curiosity and exploration.
Enjoy unstructured, unplugged, unscheduled time.
Catch fireflies.
Tell stories.
Stargaze.
Laugh.
Build a fort.
Build a mini-library.
Work together on a project.
Like summers in Alaska, time with our kids (where they are actually kids) will fly by. Before long, they will be learning to drive, planning for life after high school, taking their first 529 distribution, and heading out on adventures of their own. Enjoy the time, build memories, and help your child gain the important skills they will need when they are ready to take that distribution from their 529 account.
About the author:
Lael Oldmixon is the Executive Director of Alaska 529 and UA Scholars.