By Patricia Roberts, Chief Operating Officer, Gift of College, Inc.
April 21, 2020
As with many forms of education, the seeds of financial literacy are first planted and nourished at home. Parents serve not only as Chief Operating Officers but also as Chief Education and Chief Financial Officers of their families. Whether a single parent or sharing the responsibility of parenting with another — the examples we set as financial role models can have a lasting impact on our children. April is Financial Literacy Month and with many of us at home with family for additional hours each day, this is a fitting time to consider the valuable seeds that can be planted with your captive audience.
A Child's Perspective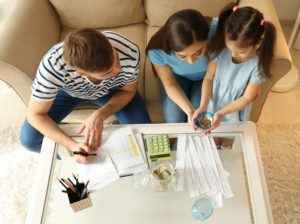 When I was a child, we did not have a month or even a day devoted to the important topic of financial literacy. When I think back to where and how I gathered my earliest insights into financial matters, I vividly recall a number of scenarios, variations of which were repeated many times throughout my early years. These include:
Budgeting and paying bills: I have a crystal-clear memory of my mom sitting quietly at the dining room table deep in concentration (sometimes until late at night) working diligently on her budget, paying our monthly bills and carefully balancing her checking account. I could tell it was no easy task, but it brought her such satisfaction and relief to make sure our family's needs were met and that all essential expenses could be covered within her very tight budget as a solo head of household.
Saving for the future: I also recall my three siblings and I periodically taking our individual piggy banks to the local bank where we each proudly deposited our savings into our individual accounts while our mom made a deposit of her own to the household savings account. It felt great for each of us to have our very own passbook and to see reflected within it both the credits for our deposits and the interest accumulated on our balances. It was clear to us that these funds were being earmarked for our future. Our mom's household savings account, however, was more of a "rainy day" fund, and I do recall it coming in handy when our car broke down or other unexpected expenses arose. It always felt comforting to know we had some savings safely tucked away to rely on.
Saving for short-term goals: Additionally, I remember conversations with my siblings about desired expenditures that our mom candidly explained could not fit into our household's budget. We had spirited and thoughtful debates about whether a particular proposed expenditure was worth pursuing, and if it was, we made a collective commitment to save together for it. It could be something we wanted for our home (like a table-top air hockey game), a place we wanted to visit or an event we wanted to attend. Without exception, we diligently saved for these various short-term goals by each contributing a portion of our weekly allowance, birthday or tooth fairy money into a glass jar for all to see. It was fun to each pitch in and to watch our savings grow over time until we accumulated a sufficient amount. The reward was always worth the wait, and being invested in the outcome as a family made it all the sweeter.
Leading by Example as a Parent
As I fast-forward from my childhood financial memories to the steps I've taken as a parent, I realize that I've naturally incorporated many of the financial lessons my mom taught me. Additionally, I realize that I have also leveraged our 529 plan accounts and the topic of saving for college to drive some of those lessons home in an easy-to-understand way. 529 college savings plan accounts are not only an extremely useful tax-advantaged way to save for higher learning, but they have the added value of lending themselves to some great conversations about financial aspects of planning for the future and about educational and career aspirations.
Depending on the age of the child(ren) in your life and your preferences, here are a few topics you may want to consider exploring as a family.
Discussing values: Letting your child(ren) know you are saving for their educational future presents a great opportunity to explain the value you place on higher learning (and why). It also lends itself to conversations about your child's interests and aspirations and the forms of education that may help with the contributions your child wants to make to the world from a career and/or values perspective. This also presents an opportunity to incorporate topics of establishing priorities and distinguishing between needs and wants to help achieve financial goals.
Earmarking savings: Exploring the differences between short- and long-term goals can help children recognize the importance of earmarking funds for different purposes versus aggregating them in one account or one piggy bank or jar. Through this conversation, you might explain why having an emergency (or "rainy day") fund for your family can be extremely helpful at times like the one in which we find ourselves. You can also explain why you chose to specifically earmark funds for higher education in a college savings plan versus a more general use saving or investing account. As children receive money from allowance or gifts, you can help them to decide how to allocate those funds. They may want to divide them into categories such as what they will spend, save for short or long term and/or give away. Charitable giving is another great financial and social topic to explore when the time seems right.
Creating a plan:  Explaining that long-term goals start with both visualizing and quantifying what you want to achieve is an important concept to consider — as is the topic of working backwards from the future goal to determine exactly what steps need to be taken to get you there. This is a great way to show the value of having a plan and to demonstrate that small, consistent steps over time can help achieve big goals. We shared with our son what factors we considered in determining how much we felt we needed to save for his education after high school. We also shared with him the fact that we were taking a certain amount out of our paychecks for his college savings account to help reach our goal so that he could avoid having the level of student loan debt that we both had to repay with interest after obtaining our degrees.
Reviewing expenditures:  Reviewing elements of your family's budget can help children understand that eliminating unnecessary expenditures can help with savings goals. This enables you to show that it's not only what you earn but also what you spend that has a lot to do with what you'll be able to save.  When my son was in middle school, we talked about some of our family's monthly expenditures and he came up with the idea of our eliminating our monthly cable expense. That alone ended up adding $2,000/year to his college savings account. Small adjustments can have a big impact.
Considering other topics:  As children grow in age and understanding, 529 account(s) can also be used to discuss compound growth, risk and reward, taxable versus tax-free investing and many other personal finance topics.
Being a positive financial role model to your child(ren) is one of the greatest gifts you can give. With our increased time together during this period of social distancing, consider what topics you can explore during Financial Literacy Month and beyond. The seeds you plant today can help to develop strong roots and can have a priceless impact on those you love.
About the author:
Patricia Roberts is the Chief Operating Officer of Gift of College, Inc. She has been part of the 529 college savings arena for more than 20 years, serving as an attorney, product manager, and is the past chair of the CSPN Corporate Affiliate Committee.